Turkey Lurkey, Henny Penny and the rest of the fearful feathered friends, beware! Thanksgiving is upon us. Here are a few of our favorite dishes that we like to share with friends and family during this season of gratitude (that are, of course, gluten free).
Stuffing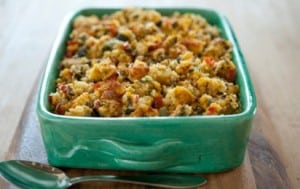 Here are 2 of the best homemade stuffing recipes we've tried:
We've used both recipes a lot, substituting the bread for gluten-free bread, of course, and also playing around with different herbs, sausages (use chorizo for heat!), etc.
I highly recommend doing a gluten free cornbread mix (like Bob's Red Mill) if you're doing the Cornbread Stuffing recipe. Make the cornbread the day before. Then cut the bread into cubes and let it sit out, covered by a towel, all night so it gets stale and dry. Letting it sit out for a few days is good too! Or if you forgot to leave the bread out all night, or just ran out of time, you can toast the corn bread cubes in the oven for 10-12 minutes at 365 F.
Sweet Thang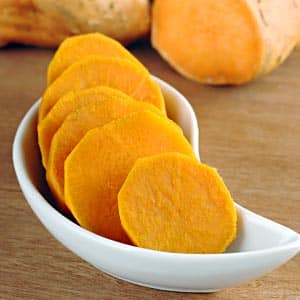 Last year, a good friend of ours introduced us to her family's sweet potato recipe. Not having grown up eating them, I was really impressed with this apple, sweet potato, roasted, buttery delight!
The Bird
We've fruit-stuffed, BBQ'ed, inverted, brined and have done all sorts of things to our Thanksgiving turkeys. The best turkey is one that's made with love, of course, and is extremely tasty and tender (a crunchy skin is good too!). So here's two ways we like to talk turkey, so to speak, for Thanksgiving. The first is wet brined, which we've done and it's totally amazing, and the second we're going to try  for the first time this year.. we're going to dry brine it, aka cure it!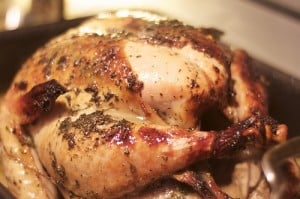 Apple Pie, sans wheat
There are a million different recipes for delicious apple pie. And a million ways to do a gluten free crust. If you feel too intimidated to make your own gluten free crust from scratch, do yourself a favor and purchase a gluten free pie crust mix. You'll be just fine and so happy with your pie.
Ingredients
Filling
3 1/2 pounds apples, mixture of Granny Smith, Honeycrisp, Braeburn and Golden Delicious, about 6 - 7 large apples
1 lemon, zested
1 orange, zested
2 tablespoons freshly squeezed lemon juice
1 tablespoon freshly squeezed orange juice
1/2 cup sugar, plus 1 teaspoon to sprinkle on top
3 tablespoons tapioca flour
6-ounces applesauce
1 teaspoon kosher salt
3/4 teaspoon ground cinnamon
1/2 teaspoon ground nutmeg
1/8 teaspoon ground allspice
1 egg beaten with 1 tablespoon water, for egg wash
Gluten Free Pie Crust
1 cup brown rice flour
3/4 cup sorghum flour
1/2 cup corn starch
1/4 cup tapioca flour
1 tsp xanthan gum
Fine kosher salt
1/4 teaspoon baking powder
1/2 pound (2 sticks) super cold-cold unsalted butter, cut into cubes, plus more for greasing
About 1/3 cup ice-cold water
Instructions
Preheat the oven to 400 degrees F.
Cut each apple quarter in thirds crosswise and combine in a bowl with the zests, juices, 1/2 cup sugar, flour, applesauce, salt, cinnamon, nutmeg, and allspice.
Lightly dust a pastry board and a rolling pin with brown rice flour and unwrap 1 disc, keeping the second piece refrigerated. Tamp down the dough with the rolling pin and gently begin to roll it out into a circular pie shape by rolling evenly in one-eighth turns to keep the rolling even.
When the dough is rolled out to an even thickness of about 1/8-inch and is about 12 inches in diameter, it is ready to be transferred to a 10-inch pie dish. Don't stretch the dough; if it's too small, just put it back on the board and re-roll it.
Lightly butter the dish, lift the dough with the rolling pin by partially rolling the dough up on the pin, center the dough in the dish, and unroll. Roll the second half of the dough into a circle slightly larger than the pie dish. Drape it over a 9- or 10-inch pie pan to extend about 1/2-inch over the rim.
Fill the pie with the apple mixture. Brush the edge of the bottom pie crust with the egg wash so the top crust will adhere. Top with the second crust and trim the edges to about 1-inch over the rim. Tuck the edge of the top crust under the edge of the bottom crust and crimp the 2 together with your fingers or a fork. Brush the entire top crust with the egg wash, sprinkle with 1 teaspoon sugar, and cut 4 or 5 slits.
Place the pie on a sheet pan and bake for 1 to 1 1/4 hours, or until the crust is browned and the juices begin to bubble out. Remove to a rack and cool a minimum of 4 hours or until almost room temperature.
Gluten Free Pie Crust
Sift the flours, xanthan gum and baking powder together into the bowl of a food processor. Add the cold butter cubes and pulse a few times until the mixture begins to become mealy and the butter forms plainly visible pea-size bits.
Dissolve 1/2 teaspoon salt into the water. With the motor running, slowly stream in the water and let mix, just until the dough pulls together. Do not over-mix the dough. If it appears dry and is not holding together, add a few additional tablespoons of water.
Form the dough into two balls, flatten, and wrap discs in plastic wrap. Refrigerate 1 hour or overnight.
https://collabkitchen.com/turkey-lurkey-super-stuffing-sweet-taters-apple-pie-oh-my/
GOBBLE GOBBLE!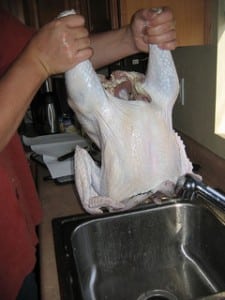 Brent holding the bird.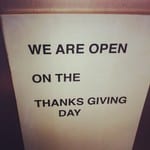 (And thanks to you for reading our blog posts!)