Funny how a particular food and restaurant can garner emotional comfort and even a cult following. But that's what Tokyo Express in Phoenix was for us back in the 90's. It was "fast" but fresh Japanese food, and it was to die for. Teriyaki bowls, cheap yet decent sushi, ginger-dressed salads, and my favorite, the Oyako bowl (your choice, brown or white rice!) were among the offerings there. One of my closest friends Kelli introduced me to Tokyo (that's what we called it) way back in 1994. It was our alternative to the coffee shop hang out if we were hungry. And we ate and talked, and sipped on tropical iced tea (unsweetened, of course), and talked, and ate and studied… And, you get the idea. Third place and all that jazz. And we turned on crowds of our friends to the place. We'd gather there and eat and just have a good old time. Eventually, I dragged my husband and daughter there. It's my comfort food, in a bowl.
Well we moved to the Seattle area, and I've yet to find a replacement for Tokyo. Which is funny because I'm in a highly saturated Asian restaurant market. Perhaps I just haven't looked hard enough? Or maybe, nothing can replace memories and I just need to create new ones… in a restaurant… That sounds weird. Is that weird? Whatever.
OK, so Asian markets to the rescue! Uwajimaya, H Mart, DK Market, Viet Wah… all Asian supermarkets, like Asian Costcos, are everywhere here! And we love it! We made an important discovery at Uwajimaya recently… Coconut Secret's COCONUT AMINOS! As you know, we try to be gluten and soy free around these parts. And we've come up with a pretty decent soy sauce alternative recipe. But we recently ran into Coconut Aminos, and it's an amazing soy sauce replacement (and way better for the body too!).

So, thankfully, we took matters into our own hands, had tons of fun in our local Asian market, and turned our kitchen into a mini Tokyo Express. Here are our favorites inspired from that little Phoenix hole in the wall, with ideas for Tropical Iced Tea included!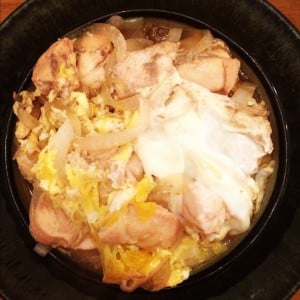 Ingredients
1/2 cup dashi stock (you can find a great dashi recipe here, or find dashi at an Asian market)
1/2 cup soy sauce, soy alternative or Coconut Aminos (a soy sauce alternative!)
2/3 cup mirin
1 tablespoon sugar
1/2 onion, sliced
1/4 lb boneless, skinless chicken breasts, cut into 1-inch cubes
2 eggs, gently whisked
1 teaspoon chives, chopped
1 cup steamed brown rice
Instructions
Over medium heat, in a medium Asian-style frying pan (a "wok" with higher sides and narrower at the bottom works, but any medium pan will do), warm the dashi stock until steam rises from the liquid. Raise the heat to medium high, then add soy (or alternative), mirin and sugar, and bring to a gentle boil.
Add the onion and chicken to the stock and reduce to medium heat. Let cook for a few minutes, then turn the chicken pieces over once. Leave until the chicken is just about cooked through, about 8 minutes. Do not let the liquid boil too much.
In the last 2 minutes of cooking the chicken, pour the egg over the chicken and onion, cover with a lid. Leave until the egg is cooked through. (Chicken should be thoroughly cooked through at the end.)
Divide steamed rice into two bowls. Divide Oyako chicken over the steamed rice. Sprinkle chives on top and enjoy! Option: Garnish with Ginger Dressing and/or chili garlic! YUM!
https://collabkitchen.com/oyako-bowl-and-ginger-dressing/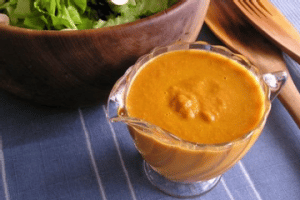 Ingredients
1/2 cup minced onion
1/4 cup canola oil
1/4 cup sesame oil
1//3 cup rice vinegar
2 tablespoons water
2 tablespoons minced fresh ginger
2 tablespoons minced celery
2 tablespoons ketchup
4 teaspoons soy sauce, soy alternative or coconut aminos
2 teaspoons sugar
2 teaspoons lemon juice
1/2 teaspoon minced garlic
1/2 teaspoon salt
1/4 teaspoon black pepper, optional
Instructions
Combine all ingredients in a blender. Blend on high until all of the ginger is well- pureed. Serve over a lovely green salad with strips of carrot. Also works well on Japanese chicken recipes such as Teriyaki chicken or Oyako chicken bowls.
https://collabkitchen.com/oyako-bowl-and-ginger-dressing/
This Oyako Bowl and Ginger Dressing combo must be served with a nice tropical iced tea with a few lemon slices. At the restaurant, they used Paradise Ice Tea Passion Fruit, a nice, fragrant black tea mixture.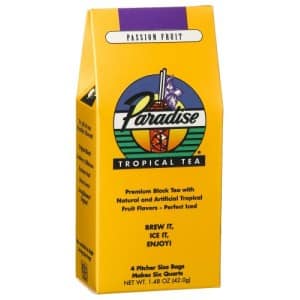 Recently, though, we've fallen in love with a custom mix from Teavana. We described what we were looking for and they came up with a "Golden Monkey and Youthberry" mix for us. Dare I say it's even better than Paradise's version??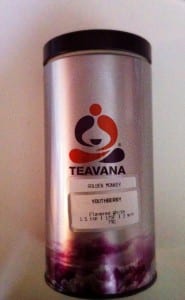 Brew your iced tea according to directions, throw a few slices of lemon and enjoy this very delicious Asian-Americanized meal with your family and friends! We will definitely be repeating this meal again soon. (Thanks Kelli for the intro all those years ago! Wish I had some embarrassing 90's photos to post here of us at Tokyo!)