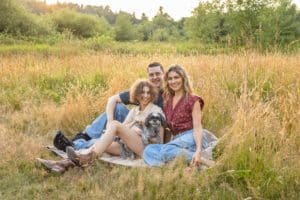 We're Brent and Michelle and we're in love. We're also Brent, Michelle, Cadence & Muffin our pup.
We love each other, our daughter, our pup, and food. Sure there are plenty of things we're involved with (here's some of Brent's & Michelle's work). But at the close of most days, we have the honor of sitting down together and sharing a meal.
We've realized that 'soul food' isn't just familiar dishes we grew up with. It's WHO we're with – family and friends, near and far. We look forward to building more community, learning, laughing and crying and sharing meals. People like it when we cook, bake (sometimes) and grill or use the smoker. We like it when they make meals for us too.
We hope that this little corner of the interwebs makes you hunger for better things. Not just for great home-cooked food. But for creativity, fresh ideas and, especially, a desire to collaborate and build a beautiful today and tomorrow, with the people in your life.
The people around you have got a lot of fresh ideas. It's up to all of us to drive those creative flutters out of our heads and hearts and into our world and our homes. You don't have to be a professional to get a good plate going. We're certainly not pros. We just like to eat great food together.
In 2022, our daughter, Cadence decided to join us here too. Here's a little from her:
i'm an amateur cook, but that doesn't mean i have a love for it. i've grown up on the internet for as long as i can remember, in fact the first day i was alive there's records of me on twitter.. or something. i've loved watching recipes since i was really young, and i love watching recipes i know how to make.
so, i remembered this blog. and i remembered the absolute amazing food on here. though, a lot of the food on here i can't make yet and can only help in small ways.
so i thought to myself, "how can people my age get into cooking, without making epic stuff first?"
then i remembered i cook.
"oh, right, i can write the stuff.. create the recipes for people of all ages! get friends to make meals, siblings to make desserts, whatever comes to my mind!"
and so this account was born.
We've been posting here since 2011 and plan to keep going. We invite you to create with us. We promise to create with you too.
Brent, Michelle & Cadence (& Muffin too!)