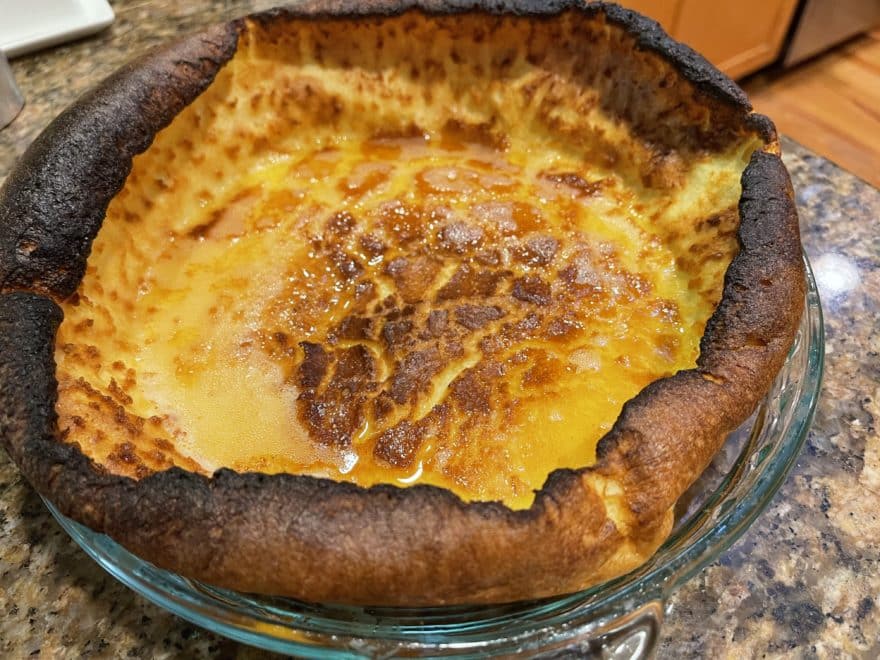 Every time I make this, it's a HUGE hit! The only regret has been that when making it gluten-free, it always comes out flat. One day I got pissed and just beat the living heck out of the batter before putting it in the oven. To my surprise, it fluffed up wonderfully and was exactly as expected. This turned out to be the secret to the gluten-free dutch baby. You just gotta beat it into submission.
We top these things with freshly squeezed lemon, fruit, maple syrup, whipped cream (or all of the above). It's a beautiful breakfast treat best served on a Sunday morning. Here's the recipe:
1/2 cup flour (we use cup for cup GF flour)
1/2 cup milk
1 tbsp sugar
3 eggs
Pinch of ground nutmeg (optional)
Dash of vanilla extract (or seeds from 2 pods) (optional)
4 tbsp salted butter
Preheat oven to 425°
Mix flour, milk, eggs, sugar, nutmeg & vanilla vigorously in a bowl.
BEAT THE LIVING SHIZZLE OUT OF IT!!! I usually keep beating it every minute or so right up until I pour it into the melted butter (below)
Place butter in a pie plate or iron skillet and put into the oven. Watch the butter. We don't want it to burn.
When butter is melted, pour the mixture into a plate or pan and bake at 425° for 15 minutes.
Finish for an additional 5 minutes or so at 300°
Serve your favorite toppings and eat!