Sauces, spices, pickling… there are fewer things that add flavor to food than these. This year we hope to include more creative sauce making (any sauciers in the house?), delicious pickling of in-season veggies, and letting some creative spices take the lead while we cook. How about you? What are some of your culinary aspirations?
We wanted to share just a couple of borrowed recipes that we are addicted to making and having around in our kitchen. First up is Chef Edward Lee's arsenal of delightful new-southern recipes, appropriately entitled "Smoke & Pickles," offers a Bourbon Pickled Jalapeños recipe we can't stay away from. We use them on eggs, toast, meat, tacos, or just consume the jalapeños all on their own. The fire and the sweetness are a delightful treat of this "quick pickling" recipe.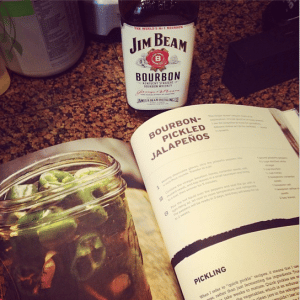 Quick Bourbon Pickled Jalapenos
Ingredients
1 pound(s) Jalapeño Peppers, sliced into 1/2-inch rounds
1 1/4 cup(s) Distilled White Vinegar
1 cup(s) Bourbon
1/2 cup(s) Honey
2 teaspoon(s) Coriander Seeds
1 teaspoon(s) Salt
1 teaspoon(s) Yellow Mustard Seeds
2 Bay Leaves
Instructions
Transfer sliced jalapeños to a 2-quart screw-top jar.
In a small saucepan, combine vinegar, bourbon, honey, coriander seeds, salt, mustard seeds, and bay leaves. Bring to a boil; then simmer for 5 minutes.
Pour hot liquid over jalapeños and seal jar with tight-fitting lid. Let cool to room temperature; then refrigerate for 3 days before serving. (Jalapeño pickles can be stored in refrigerator for up to 2 weeks.)
https://collabkitchen.com/food-and-flavors-to-flip-for/
I asked Brent what some of his top flavor combinations are, and here's what he came up with. Bearing this in mind I must say, OMG I can't wait to see what he'll do in the kitchen this year!!!!!! And now a few words from Brent (and an appearance by our Christmas ham)…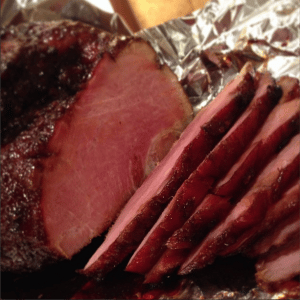 SOME of my favorite flavors consist of (to mention just a few, not all): ham/bacon, chocolate, coke-a-cola, bbq sauce, chili, french onion dip, salsa and pad thai. But it's what's in these concoctions of bliss that is what in essence, I love to cook with. here's a brief breakdown:
ham/bacon = smoke + pork
chocolate = cacao + sugar + butter
coke-a-cola = sugar + maple
bbq sauce = worcestershire + tomato + bourbon + garlic + onion + fire
chili = meat + chili
french onion = caramelized onions + sour cream
salsa = tomato + peppers + onion + lime (+ mango too)
Often times in cooking, I find myself mixing these individual flavors to come up with a variety of dishes. I've found it useful to figure out what is INthe dish I like so I know how I can use those elements in other dishes. That's what cooking is all about, isn't it? Well, at least it is for me and my mouth is happy! 🙂
Another path we're trying to take is the notion that everyday, well-prepared meat and vegetables can be elevated with a simple and luxurious sauce. (Sauce a luxury? You bet.) Here is a very simple red wine sauce recipe by Chef Giada De Laurentiis for the less expensive (but still delicious) flat-iron steak. We tried it a few weeks back and were so happy to have this elegant, week-night meal.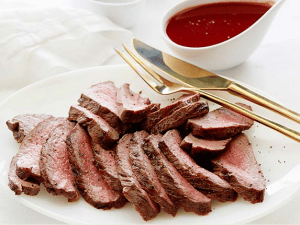 Flat iron steak with red wine sauce
Ingredients
2 (1-pound) flat iron steaks or tri-tip steaks
Salt and freshly ground black pepper
3 tablespoons extra-virgin olive oil, plus extra for garnish
6 tablespoons cold unsalted butter
1 onion, thinly sliced
1 tablespoon minced garlic
1 teaspoon dried oregano
1/4 cup tomato paste
2 1/2 cups dry red wine
Instructions
Prepare the grill or barbecue (medium-high heat). Sprinkle the steaks with salt and pepper and drizzle with the 3 tablespoons of olive oil. Grill to desired doneness, about 5 minutes per side for medium-rare. Transfer the steaks to a cutting board. Tent with foil and let stand 10 minutes.
Meanwhile, melt 2 tablespoons of butter in a heavy large saucepan over medium-high heat. Add the onions and saute until tender, about 5 minutes. Season with salt. Add the garlic and oregano and saute until fragrant, about 30 seconds. Stir in the tomato paste and cook for 2 minutes, stirring constantly. Whisk in the wine. Simmer until the sauce reduces by half, stirring occasionally, about 10 minutes. Remove the skillet from the heat. Strain the sauce into a small bowl, pressing on the solids to extract as much liquid as possible. Discard the solids in the strainer and return the sauce to the saucepan and bring back to a slow simmer. Cut the remaining 4 tablespoons of butter into small 1/2-inch chunks and whisk in the sauce a little at a time. Season the sauce, to taste, with salt and pepper.
Thinly slice the steaks across the grain. Divide the steak slices among 6 plates. Drizzle the sauce over the steak, drizzle a little more extra-virgin olive oil and serve.
Recommend serving with quick roasted asparagus.
https://collabkitchen.com/food-and-flavors-to-flip-for/
Finally, we want to encourage you to start a spice cabinet for you and your family. Taste buds should be used (and set ablaze… but that's a conversation for another time), and one of the best ways to do this is through knowing how to wield spices, both new and familiar. Yes it may include a lot of this: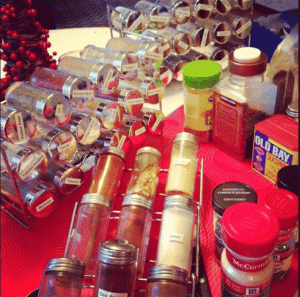 That's a bunch of labeling, refilling, and organizing going on there. Spices are reliable once you've devoted a bit of time to them. Which leads us to a few pieces of spice advice.
Recommendation #1 – THOW AWAY EXPIRED SPCIES. Now. Go do it. Yes, the garlic powder that you've had since you were dating your spouse 15 years ago, the same bottle you had when you had 3 lazy roommates, that needs to go away. Fresh spices will win you over. Expired, old spices, no matter how much you add of them, will never taste like they should.
Recommendation #2 – KEEP THEM VISIBLE AND ORGANIZE. Buy and label bottles of your most heavily-used spices. Google search "spice racks" and you'll find some good ideas. Buy what works for you and your kitchen. We like this spice rack shown above, found here. Then when you're getting more experimental, buy another rack for some exotic flavors (cardamon, star anise, and saffron all come to mind!)
Recommendation #3 – TREAT THEM RIGHT. Try to keep spices away from direct heat, meaning your spice storage solution shouldn't be hovering over your stove. Keep them tightly sealed and in the shade when not in use.
Recommendation #4 – ROTATE OFTEN. Buy amounts that you know you'll use within 3 – 6 months, and then refill about 2 – 3 times a year.
BONUS: Instead of buying new bottles over and over again of spices, buy spices from the "bulk" section of your grocery store. You'll save a ton of money ($7.00 for a bottle of cinnamon sticks vs. $0.75 for a handful of bulk sticks), and, you'll have fresh spices, tasting the way they were meant to be. Yes, you'll have to stand there, filling up baggies and labeling each individual one – it will take a little time. Your child will want to pull off glass bottles of oil, vinegar, etc, while you're doing this. But, if they're old enough to do that, they're old enough to help you fill up baggies! Have your child smell and help you fill each bag of spice, and try to see if they can identify what they're smelling. This will create a mini foodie child in no time! (So much better than having them identify which bag of Doritos was just opened in the car.)
Happy cooking! Happy eating!