I have a tendency to work on my BBQ recipes continuously. It seems as though they are always evolving and in need of "just one more tweak" every time I make them. My Memphis Style Pork  Ribs are no exception. I can safely say that I have been working on this recipe for over a decade. Taking a little from one book or another, talking to various pit-masters, connoisseurs, and guests, trying to get it just right. Well, last week, I believe I have finally achieved at least version 1.0 of my favorite rendition of this recipe. However, I made the ribs again today, just to be extra sure and of course, couldn't resist to tweak the recipe just one more time. These came out the best I have ever done and as I didn't use any measuring cups or spoons in the mixing up of these ingredients, I think that the proportions below in the recipe are darn close to what I ended up with. Honestly, I don't think it's super mission critical to get these measurements spot on but the various medley of flavors is the spirit of the thing,  you get the idea.
There's a technique to this method as well and that's (in my humble opinion) as important to the whole as anything else. So let's start with the prep…
Marinade prep & rub: 20 minutes
Marinating: 8-12 hours
Cook time: Approx. 4 hours
This recipe is for 2 racks of pork back ribs
Ingredients
1/4 Cup Smoked Paprika
2 TBSP Chipotle Chili Powder
1 1/2 TBSP Fresh Ground Black Pepper
2 1/2 TBSP Dark Brown Sugar
2 TBSP Kosher Salt
1 TBSP Celery Salt
2 TSP Cayenne Pepper
2 TSP Garlic Powder
2 TSP Dry Mustard Powder
1 1/2 TSP Ground Cumin
Instructions
Add & mix all ingredients together thoroughly
https://collabkitchen.com/memphis-style-pork-ribs/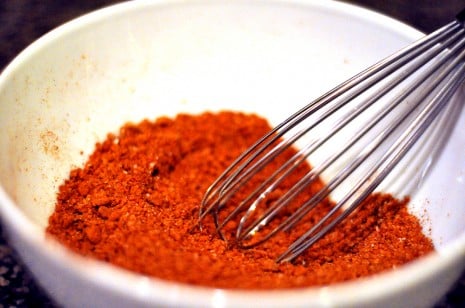 Remove the membrane from the back of the ribs and use about 2/3 of the rub on your ribs. Rub it in really good, covering every part as much as possible. Save the remaining rub for sprinkling over the ribs about 15 minutes before pulling them off the grill (the charring phase).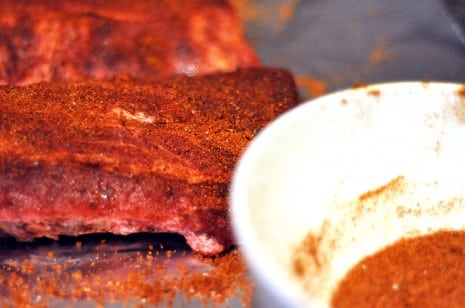 After they are covered with the rub, cover the ribs and place in the fridge for 8-12 hours (or overnight). After they are finished marinating, pull them out and let them get up to about room temperature while you prepare the grill.
On a gas grill, prepare your grill for indirect cooking (heat on one side and cool on the other). Prepare your smoker box or aluminum tin with your favorite water soaked chips (I used a little smoker box and Apple wood chips).
Place chips over the heat (on high) and wait until they start to smoke a little bit before turning down to medium &  adding in your racks of ribs.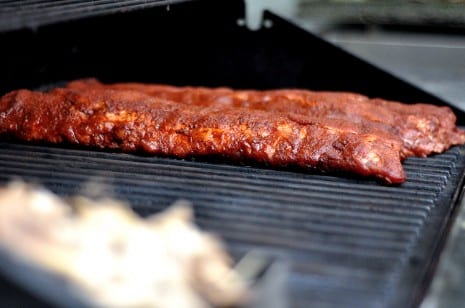 We're aiming for a grill temperature of somewhere between 250 and 300.
Once your ribs are smoking away, you can put together your wet mop sauce.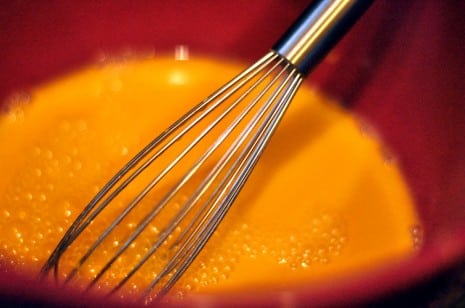 Let ribs cook/smoke for about an hour or two until the rub forms a kind of dry crust around the ribs.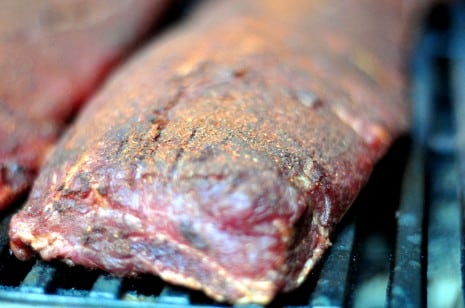 Slather your mop sauce (liberally) over the meat about every 20-30 minutes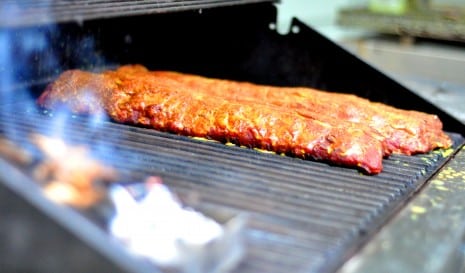 After about 2 hours more (total of about 4 now), you should start to see the meat starting to curl back from the bones on the exposed side.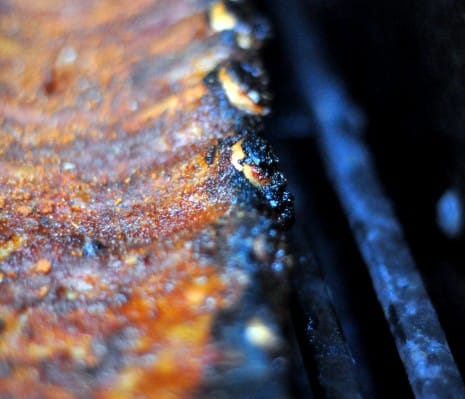 Things start moving really quickly now. Turn your heat up all the way and sprinkle the remaining 1/3 of the rub all over both sides of the ribs. I'll let each side cook another 5-10 minutes just to get some of the crispy char going on around the racks and let the juices grab on to the newly sprinkled rub (above). This step is kind of to your liking. Just char the ribs as much as you desire for looks.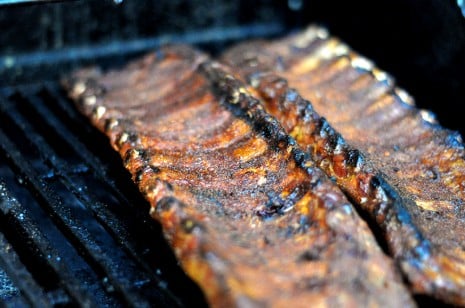 Once you are satisfied with the char, pull your ribs off the grill, wrap in aluminum foil and let rest 15-30 minutes.
Slice and serve