Happy New Year!
Welcome to 2014, another great year for FLAVOR.
So here we are again, hashing out our third tamale recipe at CollabKitchen. We're not ashamed. This version is a pork tamale with a piquantly-pleasing pasilla and chile de arbol sauce. Not spicy at all. In fact, I was a little put out at the beginning that the fire of the sauce was extinguished by the sweet, shredded pork. But the result was too amazing to mess with. (And hey, if you need ideas for adding heat later on, we've got a few…) In the end, the sweetness of the pork really goes well with this savory crimson sauce.
Our goal, as usual, was to incorporate the most flavorful ingredients into easily-accessible and easily-made tamales. This 1/2 batch recipe, which will give you about 16 – 18 tamales, rather than the usual 40, is perfect for a humble Sunday night meal with the family (leaving great leftovers throughout the week!).
We think you're going to go crazy for these  corn husk wrapped pockets of delight. We still are!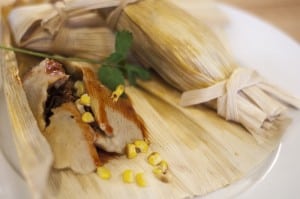 Ingredients
Roasted Vegetables

1 head of garlic
1 onion
1 corn on the cob
1 lime, juiced (Attention! zest lime first and reserve zest for masa)
1 tablespoon coconut aminos or soy sauce
1 tablespoon worcestershire sauce (we love Lea & Perrins)
1 tablespoon olive oil, divided
Few pinches of kosher salt and pepper

Pasilla and chile de arbol salsa

4 dried pasilla chiles, stemmed, seeded and deveined
3 dried chiles de arbol, stemmed, seeded and deveined
2 cups hot water
3 roasted garlic cloves (reserved from above)
2 tablespoons canola oil
1 bay leaf
Kosher salt and pepper to taste

For the shredded pork (carnitas)

1 1/2 - 2 pounds boneless pork shoulder, cut into 1-inch cubes
1/4 cup lard
1/4 cup achiote-infused oil, optional (if you don't make this achiote oil, just increase the lard by a 1/4 cup)
1 teaspoon salt
1 lime, juiced
1 large white onion, peeled and cut in half
5 peppercorns
1 bay leaf
Kosher salt, to taste

Other tamale ingredients

1 bag of corn husks (approximately 20 corn husks)
2 cups masa harina (fine corn flour)
2 cups milk
1/2 cups water
2 tablespoons melted butter
1 tablespoons kosher salt, or to taste
1/2 teaspoon cumin
1/4 teaspoon chili powder
Zest of 1 lime (from above)
1/2 cups shredded Mexican cheese blend, optional
Instructions
Thoughts before you begin

Prepare all of the components separately prior to assembling the tamales. Make sure each prepared component's ingredients are washed, cut, roasted, assembled, etc., and you will find making tamales an enjoyable and rewarding experience. Without your mise en place, you will find yourself overwhelmed with mad rushing, overlooking important steps, and possibly burning or missing ingredients. Have a plan and be actively engaged. It always helps to have friends or family around too to lend a hand, especially if you double the recipe. But you'll probably be able to handle this 1/2 batch on your own, while the others do the dishes.
These tamales have the added benefit of flavored garlic, onion, corn and lime infused masa - our own little delicious twist here at CollabKitchen! Play around with the masa using whatever flavors you'd like (replace butter with lard or flavored oil, replace milk with vegetable stock, lemon zest...whatever!) to make your very own made-to-order tamales!

Roasted garlic, onion and corn

Preheat oven to 375 degrees F.
Cut 1/4 of the top off of the head of garlic. Discard the top portions. Drizzle olive oil over the bottom portion of garlic, over the cut and exposed part of the garlic. Sprinkle with salt. Wrap the garlic bulb into foil. Transfer to a rimmed baking sheet, making sure the opening is on the top.
In a small bowl, mix together the juice of 1 lime, coconut aminos (or soy sauce), worcestershire oilve oil, and a pinch of salt and pepper. Peel and quarter the onion, leaving the root- end intact so the onion doesn't fall apart while cooking. Cut two 6-inch squares of aluminum foil. Put 1 piece of foil on a medium bowl and top with another piece of foil for double-wrapping. Place the onion in the center of each piece of foil. Fold up the foil of each packet to form a cup. Pour marinade on top of onion. Enclose the onion tightly with foil and transfer to a rimmed baking sheet, next to the garlic, making sure the opening is on the top. Roast until the onions and garlic are caramelized and tender, 45 minutes to 1 hour. Let cool for 10 minutes. Open the packages slightly before serving.
Lightly brush oil on a husked corn on the cob and sprinkle with salt and pepper. Wrap in foil, and set aside until the last 20 minutes of roasting the garlic and onion. Then place in the oven next to garlic/onion. Let cool for 10 minutes and open its package slightly before opening all the way to release the steam.
Squeeze the roasted garlic out of its paper, pushing from the bottom up, into a small food processor, reserving 3 of the cloves for the salsa. Cut off the root end of the roasted onion and discard and place the onion into the food processor. Add a pinch of kosher salt and puree the roasted garlic and onion together. Cut the kernels off the roasted corn and set aside. Reserve the roasted garlic and onion puree and the corn kernels to mix into the masa.

Pasilla and chile de arbol salsa

In a medium bowl add pasilla chiles and chiles de arbol and 2 cups hot water. Let sit for 10 minutes. Add all ingredients to a blender, including 3 cloves of roasted garlic and salt and pepper, to taste. In a medium, heavy saucepan, heat canola oil over medium heat. Strain the pureed guajillo salsa into the pan. Add the bay leaf and simmer until thickened, about 10 minutes. Taste for seasoning, adding additional salt and pepper as desired. Remove bay leaf and set salsa aside.

AMAZING SALSA ALERT!

Double the pasilla and chile de arbol sauce recipe if you want to have a delicious salsa for pouring over the tamales. Otherwise we strongly recommend pouring Cholula Chipotle Hot Sauce over the final tamale.

Carnitas (shredded, fried pork)

In a wide pan, add lard and achiote oil (if using) and heat over medium high heat. Sear all sides of meat in a single layer, using small batches if necessary so as to not overcrowd the pan. Remove meat to a plate and sear the onion for 3-4 minutes. Remove pan from heat. Add the meat and any juices back into the pan along with the salt, peppercorns, bay leaf and lime juice. Add to a slow cooker and cook on high for 3 1/3 - 4 hours, or until tender. Shred meat, removing any fat, using two forks to separate the meat. In a medium sized bowl mix well the shredded carnitas (shredded pork) and the pasilla and chile de arbol sauce together. Set aside.

Corn husks

Submerge all corn husks in a large bowl of water or in a clean sink filled with water, and soak for at least 30 minutes. Remove from water and separate, laying them out on a paper towel (stacking is fine). Set aside.

Assembling the tamales

Mix well the masa, pureed garlic and onion, milk, water, melted butter, salt, cumin, chili powder and the zest of 1 lime into a thick paste (best done by hand, so remove those rings on your hands!). Mix roasted corn in. Mixture should be easily handled but not a watery consistency.
Apply 5 tablespoons of the masa mix into the center of the corn husk. Push mix to 1-inch of the side of the husk. Add 2 tablespoons of the meat and a pinch of cheese, if using, to center, fold 1 edge of the husk to the center, and then fold the other side to cover entire tamale. Fold ends over by 2-inches.
Place a colander in large pot of boiling water, but do not let the colander touch the water. Place the tamales in the colander, cover and allow steam to rise to the top, adding hot water to the bottom of the pot throughout steaming if water level gets too low. Steam the tamales for 60 minutes to 75 minutes.

To eat

- Remove corn husk, and pour pasilla sauce or hot sauce over the tamale (did we mention Cholula Chipotle Hot Sauce??!!). Garnish with a bit of chopped cilantro.
https://collabkitchen.com/tamales-no-3/