Everyone has been talking about the summer heat. So now, me too. We recently moved to the Seattle area from Phoenix. I've been so happy NOT to report living in 115 degree weather days, living in air conditioning, living… inside for the summer. Well, August hit Washington. And I can still go outside (thank God!), and I have no right to complain. But baby, it's hot. Especially when one is used to sleeping in air conditioning when it's hot!
So now, I'm getting tricky with a few things. My old Phoenix instincts are kicking in: drink lot's of water; don't let the sunshine inside the house; SPF on my face like crazy, and most importantly, DON'T turn on that oven (It's all about salads and grilling for us right now!). When the most hot part of the day rolls around, we head for the lake, the pool, or… a kitchen store with air conditioning! Hello Sur La Table! I'm like a honey bear around honey in that place.
Part of our Sur La Table purchase a few days ago included some super sweet silicone ice cube trays. These trays make some awesome square cubes that Brent is ga-ga for! So we've been getting creative with my old ice cube trays which almost made their way to recycle bin heaven. I'm glad they're still around.
Coffee Ice Cubes
We still make hot coffee in the morning despite the heat. This is because we're trying to fine-tune our coffee bean roasting skills (see other blog) and we want to taste the differences in our roasts. So we've got a lot of beans to burn through (thank God!). There is usually a bit left over in the pot. People can ever seem to bring themselves to drink that last bit can they? So this week, we've been making coffee ice cubes.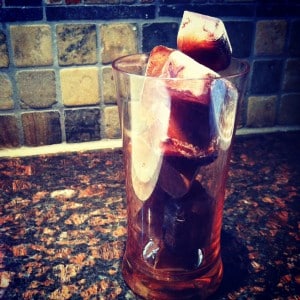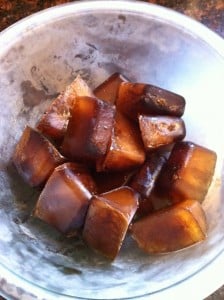 And we have this amazing thermos-like coffee pot that keeps the coffee hot throughout the day. The coffee still steams when I open the thermos pot in the evenings! Recently, in the afternoon, I pour warm coffee over this coffee-ice, and I really do get a great cup of iced coffee! (Yes I know coffee purists, the coffee should be tossed after an hour or two, but I want iced coffee & I don't want to brew again in the evenings!!) Add syrup, cream, or just drink it straight-up as I often like to do!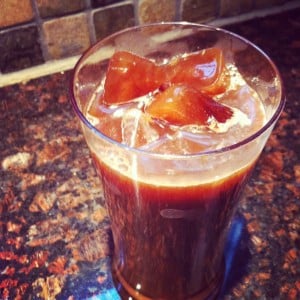 Yogurt Ice Cubes (aka frozen yogurt!)
I also have been freezing yogurt in my old ice cube trays. Here's today's gonna-expire-by-this-weekend-yogurt, so I tossed it into the tray for freezing! Freeze for several hours, with or without popsicle sticks, and enjoy. Sprinkles are a must.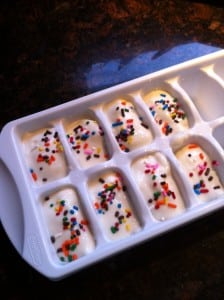 Cucumber Salad
We were in Southern California last week. Even hotter. Such ugly beaches (yeah, I'm totally kidding). We escaped to the pool, beach and air conditioning as well down there. And we ate a lot of salads and grilled foods too. Ain't summer grand? We had a delicious Cucumber Salad at a restaurant in the California Adventure theme park of all places. This "side salad" outdid the main course kabobs in my opinion! So of course we had to come home and make it. I couldn't have gotten such thin slices of cucumber without my trusty Swissmar mandoline slicer!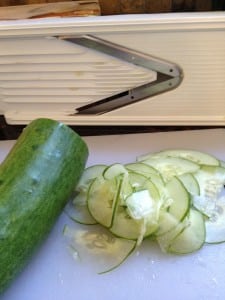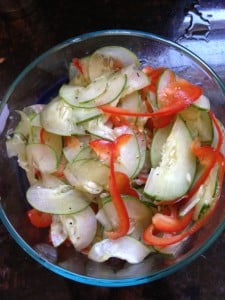 Ingredients
Cucumber Salad
4 cucumbers, sliced on a diagonal
1/2 red bell pepper, cut into thin strips
1/2 green bell pepper, cut into thin strips
1/4 cup fresh lemon juice
1/2 teaspoon coarse salt
1/4 teaspoon freshly ground black pepper
1/4 teaspoon dried oregano
1/4 teaspoon sugar
1/4 cup olive oil
Instructions
Combine cucumbers, red pepper, and green pepper in a large bowl. Set aside.
Whisk together lemon juice, salt, pepper, oregano, and sugar in a small bowl. Whisk in oil until completely combined.
Pour dressing over vegetables; toss to combine. Refrigerate salad for 30 minutes or until ready to serve.
https://collabkitchen.com/cool-as-ice-and-a-cucumber/
The day after, we still had left overs of this yummy cucumber salad. So I made some gluten free pasta, cooled it down and tossed with the cool cucumber salad and some parmesan for a great gluten-free pasta salad!
How are you beating the heat in your kitchen?