It's still hot here (and where you are I'm sure!). So I thought I'd throw in a few quick ideas of keeping the heat out of the kitchen while still getting a few refreshing treats in.
Sun Tea
Here's a way to get the sun to work for you in a refreshing way: make sun tea! We love to make this when the sun is out and it only takes a few hours to have a delicious cup of iced tea, without turning on the stove. First, we have been in love with this Trader Joe's tea for making our sun tea (for less than $3/box!):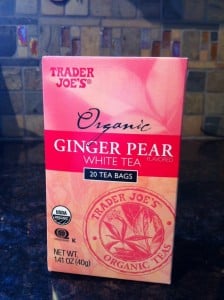 But any tea will work. Put about 8 -12 teabags into a 2 gallon glass jar. Fill with tap water, cover up with a lid and set out in the sunshine for about 3 hours, or until you've reached a great brewed flavor. Pour your tea over ice in a nice cup and enjoy! Brent loves doing a 50/50 of sun tea to lemonade. Yum!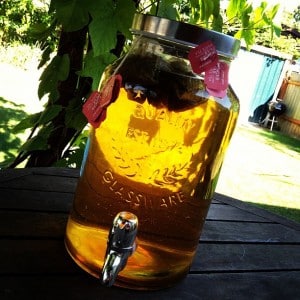 I got this glass container at Target, but any old glass container will do.
Grilled Cookies
Our daughter has been begging to make cookies recently. But it's August and I really don't want to bake at this point. So, we decided to bake cookies in our grill! We had to monitor the heat with our remote grill thermometer at the beginning before putting the cookies in. We finally got it to stabilize at 350 F for a few minutes, so that's when we felt it was safe to put in the cookies. It was really hard not to open the grill to check on the cookies; a drop in temp would have messed with the cooking process. So we just used our noses to make sure we didn't smell any burning. And guess what?! They turned out great! (And the heat stayed outside!)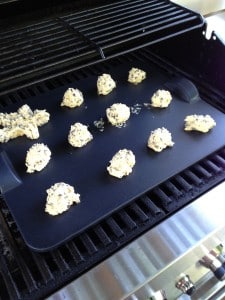 Yeah, that's a star-shaped cookie there. Our daughter insisted on a star cookie.
Ingredients
1/2 cup butter, room temperature
1 tablespoon brown sugar
1/2 cup white sugar
1 egg, large at room temperature
1 teaspoon vanilla
1 1/2 cups gluten free baking mix (I prefer Pamela's Ultimate Baking Mix found at Target of all places. It includes a variety of gluten free flours and baking powder, baking soda and xanthan gum)
1 1/2 cups semi sweet chocolate chips (I prefer Enjoy's Soy and Nut free chips)
Instructions
Preheat grill to 350 degrees F.
Cream butter and sugar, add egg and vanilla, then beat together.
Add gluten free mix, chocolate chips, then mix thoroughly.
Place scoops of dough (1 tablespoon scoop) on a grill-safe baking stone. Flatten.
Bake inside grill for 15 minutes or until edges start to brown. (Don't open grill as the temperature drop will affect cooking time. Use a really good remote grill thermometer if you are unsure of your grill's internal temperature.
Let cookies cool for 2 minutes and use spatula to remove from cookie stone.
https://collabkitchen.com/sun-tea-grilled-cookies/