It's officially fall, but around here in 'hot country' (aka Phoenix Metro) it's still over 100 degrees. While others are bundling up and making apple pie, I'm wearing shorts and a tank top, drinking iced coffee. So why not make the most of it? We decided to stretch our excuses for having more ice cream over the past week and make two kinds! Banana (the easy way) and mint (a little more involved).
Breakfast ice cream (aka banana ice cream)
Recently, I saw two separate shows on the Food Network, rocking an easy, doable "ice cream" using frozen bananas. Now, my three-year old daughter loves to ask for ice cream first thing in the morning. And I divert her with either cereal and milk, or yogurt (frozen or not) to nab that diary craving. But last week, I happened to have sliced bananas in the freezer from the night before. I was armed and ready.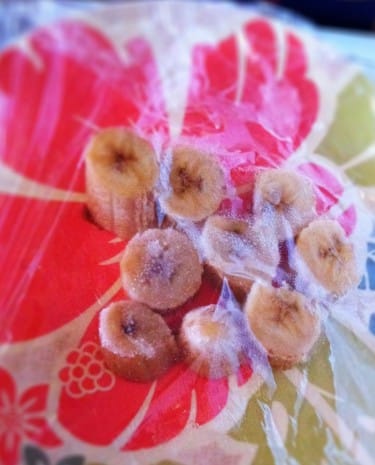 Remembering the easy methods I saw on TV, I tossed the banana slices into the food processor and began the (loud) process of slicing through the frozen banana. With a couple of splashes of heavy cream, and a few more pulses and… Voilà- we had banana ice cream. And it tasted soooo gooood. I really couldn't believe it. My daughter was pretty impressed too. So, now we've added "breakfast ice cream" to our repertoire of morning delights, and I've found another way to use up old bananas.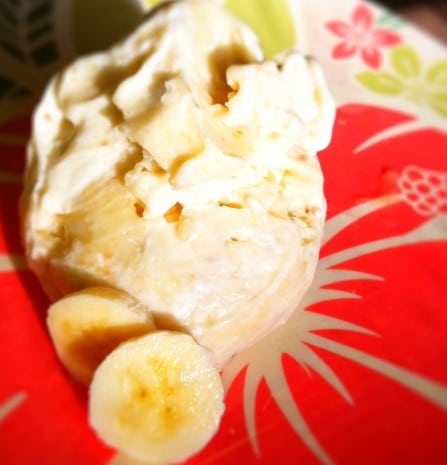 Birthday ice cream (aka not fried, but mint ice cream)
So today is my birthday and recently I was having a craving for fried ice cream. At first, I asked my sister-in-law about possibly making it (because she's an awesome cook!), however with the amount of steps involved in making it (freezing & refreezing over & again) well… I don't think any of us have time for that! And I didn't want to put her through that. My awesome husband stepped up and said he'd do it. But honestly, I'd rather spend my afternoon relaxing with him and my daughter… not spending hours on end making fried ice cream. So, I think in this case, we will leave the fried ice cream making to a restaurant. There are several around town that do it. Let's make them work it!
Well, that left me to my own devices. My ultimate, favorite ice cream is mint chocolate chip (I think). Mint was on sale this week, so I picked up a few bunches and got cracking last night on making a mint ice cream base (has to refrigerate for several hours or over night you know!). Here's where I've left off with the ice cream, with lots of mint steeping in the cream: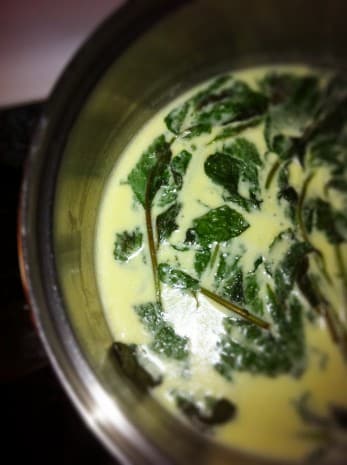 It's almost like a cliffhanger… Will I be able to complete the mint ice cream base? Did the ice cream bucket freeze well or will I have to wait another night for it to freeze? Tune in next time… OK, it's not an Incredible Hulk-like episode (from the 80's of course), but I am super excited to finish this mint ice cream and feast on it tonight, with a sugar cone, with my family. Yum.
Here's a pic of me this morning, thinking about my day (and the ice cream)-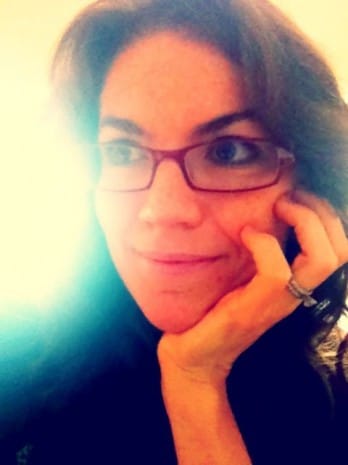 Dried fruit (beyond the raisin)
Dried fruits are delicious, nutritious and are perfect for accidentally leaving in your car in warm weather, and then eating later with no let-down. And yes, I love golden raisins, black raisins, red raisins. But I'm so glad to have gotten to know some more dried fruits beyond the raisin recently.
So who knew dates have a big seed (or pit) in the middle? I didn't, until last week when I discovered this while creating our stuffed pork chop recipe. I think I had dates as a child, and certainly have had them mixed up in things at restaurants as an adult, but it had been years since I've tried them on their own. I bought various dried fruits for Brent and I to taste test for our recipe. Huge, colorful raisins, Turkish apricots, prunes (sorry Brent), figs, and dates. We took little bites of each and finally settled on figs and dates. And boy did they make for an incredible stuffing for the chops!!
Anyway, I was geeking out because the entire stuffing for the chops could be made in the food processor – no chopping was necessary. (Brilliant, right?!) I was so caught up in my discovery, that I was stunned and confused when I heard a loud, cracking noise in the processor as I started pulsing. Low and behold, a few big pits were rolling around in there. Talk about hands-on learning. Not a big deal, but it was funny to me that I hadn't a clue about such a common (to some) and exotic (to others) dried fruit.
Anyway, we were left with a bunch of delicious dried fruit for us to snack on. I bagged them all up along with leftover almonds, for a delicious trail mix. (The trail being through Lebanon or Morocco or some place beautiful and exotic like that.) Our daughter loves the Turkish Apricots (we play tea party with them), and me? Well, I'm presently snacking on a unpitted date. Yes, it doubles as my Mac's companion.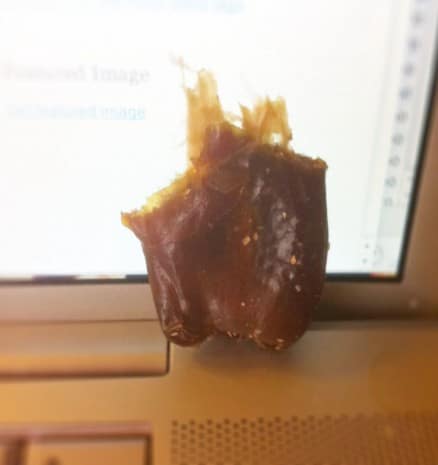 What dried fruits do you enjoy? Mango? Pears? Sweetened or unsweetened? Let us know!
Happy fall to you!