Eating vegetables isn't about ramming a head of lettuce down your throat. It's about drawing out vegetables' natural flavors through right preparation and marrying them with stellar ingredients, seasonings, herbs, etc. For our final vegetable-blast post, we're sharing a stir-fry and soup combo. We believe these two dishes create a vegetables-done-right-for-a-dinner-entree scenario. Give them a try!
The Ginger Shrimp and Vegetables Stir Fry has a light sauce (in color and flavor) infused with fresh ginger and sesame oil – an aromatic delight! Play around with various vegetables as well (red bell peppers, mushrooms, zucchini), keeping in mind that vegetables cook at different rates. Changing the vegetables each time you make a veggie stir fry yields a different and delicious meal every time you make it!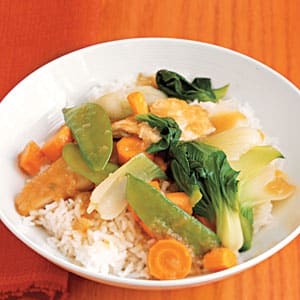 Ginger Shrimp and Vegetable Stir Fry
Ingredients
1 cup Jasmine rice
1/2 cup low-sodium chicken broth or water
1 tablespoon dry white wine
1 tablespoon worcestershire (soy-free!) or soy sauce
1 teaspoon sugar
1 teaspoon toasted sesame oil
1 teaspoon cornstarch
Kosher salt
3 1/2 tablespoons olive oil
2 tablespoons finely chopped scallions (white parts only)
1 1/2 tablespoons grated fresh ginger
1 pound shelled and deveined shrimp (you pick your size!)
2 medium carrots, sliced (about 1 cup)
12 ounces bok choy or baby bok choy, sliced into 1 1/2-inch strips, stems separated from leaves
1/3 pound (1 1/2 cups) snow or sugar snap peas
Instructions
Cook the rice according to the package directions and set aside.
Meanwhile, in a bowl, combine the chicken broth, wine, worcestershire or soy sauce, sugar, sesame oil, cornstarch, and ½ teaspoon salt, stirring until the cornstarch dissolves.
Heat 1 tablespoon of the olive oil in a saucepan over medium-high heat for 30 seconds. Add the scallions and ginger and stir-fry until fragrant, about 15 seconds. Add the cornstarch mixture and bring to a boil. Cook, stirring constantly to prevent lumps, until sauce thickens slightly, about 1½ minutes. Pour into a bowl; set aside.
Heat a wok or large skillet over high heat. Add 2 tablespoons olive oil and heat for 30 seconds. Add the shrimp and stir-fry until cooked through, 2 to 3 minutes. Transfer to a plate.
Wipe out the pan. Reduce heat to medium-high. Add the remaining ½ tablespoon oil and heat for 30 seconds. Add the carrots and ⅓ cup water, cover partially, and cook, stirring occasionally, until almost tender, about 2 minutes.
Add the bok choy stems, cover, and cook for 2 minutes. Add the bok choy leaves and peas and toss gently. Add the sauce and increase heat to high. When it starts to bubble, add the shrimp. Stir-fry until warmed through, about 1 minute. Serve immediately over the rice.
https://collabkitchen.com/veggie-blast-week-part-3-ginger-shrimp-and-vegetable-stir-fry-with-egg-drop-soup/
This egg drop soup is jam-packed with earthy Shiitake mushrooms, just the way we like it!
Ingredients
6 cups chicken stock
1/2 cup thinly sliced green onions, divided
1/4 cup spinach leaves, chiffonade
8 - 10 shiitake mushrooms, stems removed, wiped clean, and thinly sliced
1 teaspoon worcestershire (soy free!) or soy sauce
Pinch finely ground white pepper
Pinch of ground ginger
2 large eggs, lightly beaten
Kosher salt, to taste
Instructions
In a medium saucepan, bring the stock to a simmer. Add 6 tablespoons of the green onions, and all of the spinach, mushrooms, worcestershire or soy, white pepper and ginger. Return to a bare simmer and cook for 3 minutes. Stirring with a fork or chopstick, gradually add the eggs in a slow steady stream. Cook until the eggs are set, stirring to create shreds or ribbons of the eggs, 1 minute. Add a few pinches of kosher salt, to taste.
Remove from the heat. Ladle into bowls, garnish with the remaining 2 tablespoons of green onions, and serve immediately.
https://collabkitchen.com/veggie-blast-week-part-3-ginger-shrimp-and-vegetable-stir-fry-with-egg-drop-soup/