Brent is a huge carne asada fan. That's the first thing he looks for when he gets to a new latin-based anything restaurant. So, when he says he's tested and finally landed on the perfect recipe, we better listen up! Here is his best foot forward for these spicy steak strips. After making them, wrap them in a tortilla for a burrito, or dice the meat small and put in tiny corn tortillas and top with a bit of onion and cilantro for street taco style eating. Or, just put them in a bowl over a bed of brown rice and top with pickled carrots, jalapeños and onions.
There is practically no wrong way to eat well-made carne asada!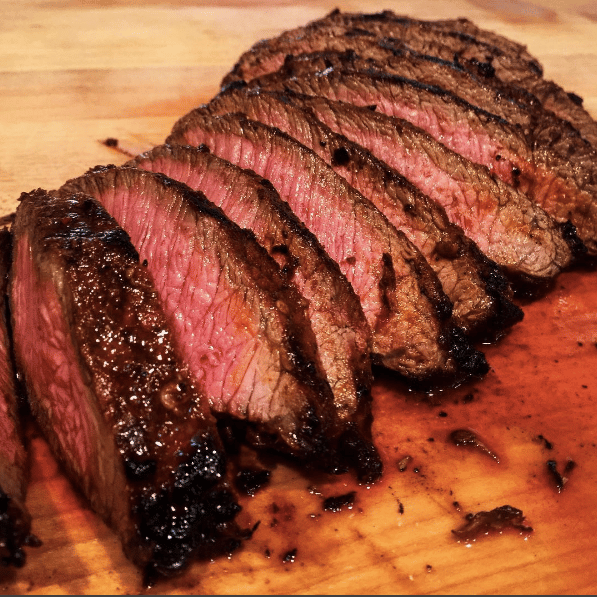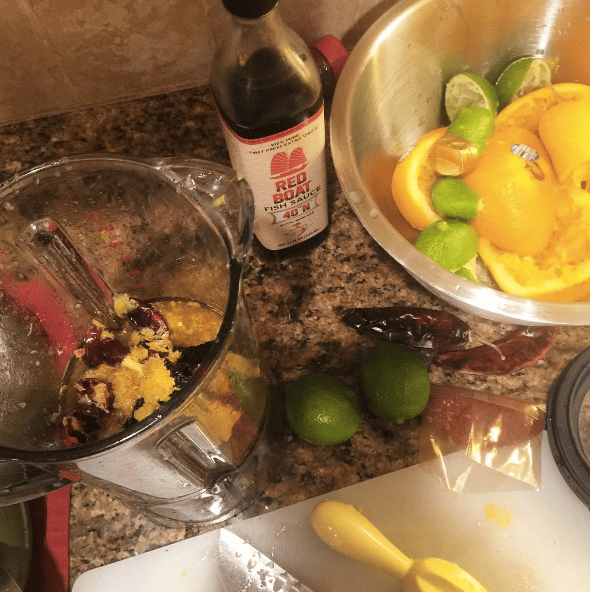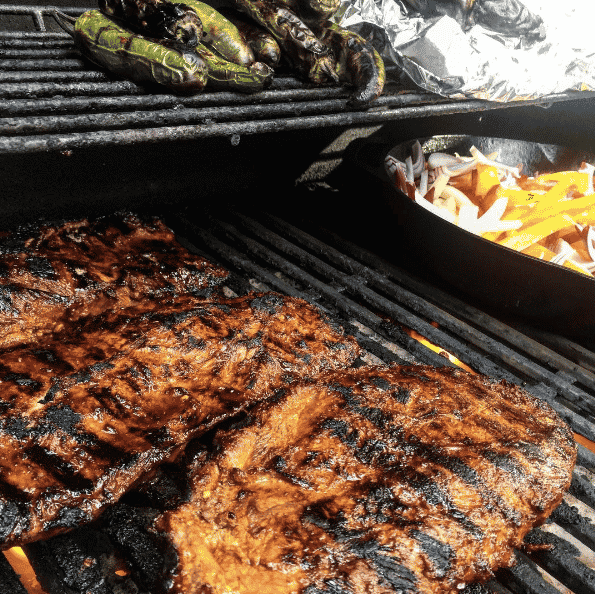 Ingredients
Marinade-Salsa
3 whole dried ancho chilies, stems removed
3 whole dried guajillo chilies, stems removed
3/4 cup fresh juice from 2 to 3 oranges, preferably sour oranges
2 tablespoons fresh juice from 2 to 3 limes
2 tablespoons extra-virgin olive oil
2 tablespoons soy sauce
2 tablespoons well-made fish sauce (we prefer Red Boat)
6 medium cloves garlic
1 small bunch cilantro, leaves and tender stems only, divided
2 tablespoons chipotle powder
1 tablespoon whole cumin seed, toasted and ground
1 teaspoon whole coriander seed, toasted and ground
2 tablespoons dark brown sugar
Kosher salt
2 pounds skirt steak (approx 2-3 whole skirt steaks), trimmed and cut with the grain into 5- to 6-inch lengths; flank steak is an alternative if skirt steak is hard to find
Warm corn or flour tortillas, lime wedges, diced onion, fresh cilantro, and avocado, for serving
Instructions
Place dried ancho and guajillo chilies on a microwave-safe plate and microwave until pliable and toasty-smelling, approximately 10 to 20 seconds.
Transfer chiles to the jar of a blender then add, orange juice, lime juice, olive oil, soy sauce, fish sauce, beef broth, garlic cloves and cilantro. Pulse for 10 seconds. Next, add chipotle powder, toasted cumin seed, toasted coriander seed, brown sugar and a few pinches of kosher salt. Blend until a smooth sauce (salsa) has formed, about 1 minute.
Transfer half of the sauce for a marinade to a large bowl and the other half of the sauce to a sealed container for salsa. Place the sealed container in the refrigerator.
Continue building the marinade by adding an extra 2 teaspoons of salt to the salsa in the bowl. It should taste slightly saltier than is comfortable to taste. Add 1 piece of steak to bowl and turn to coat. Transfer to a gallon-sized zipper-lock bag with the top folded over to prevent excess sauce and meat juices from contaminating the seal. Repeat with remaining steak, adding it all to the same bag. Pour any excess marinade over the steak. Squeeze all air out of the bag and seal. Refrigerate for at least 3 hours and up to overnight.
When ready to cook, remove the extra salsa from the fridge to allow it to come to room temperature. Preheat gas grill by setting half the burners on a to the highest heat setting, cover, and preheat for 10 minutes.
Charcoal briquettes BBQ option: Allow the coals to light and burn for at least 20-30 minutes, ensuring the coals are hot and glowing before you start grilling.
Indoor Option: Preheat a cast iron grill on high over an indoor stove approximately 5 minutes.
Remove steak from marinade and wipe off excess. Place directly over the hot side of the grill. If using a gas grill, cover; if using a charcoal grill or indoor option, leave exposed. Cook, turning occasionally, until steak is well charred on outside and center registers 110°F on an instant-read thermometer, 5 to 10 minutes total.
Transfer to a cutting board and allow to rest for 5 minutes. Slice thinly against the grain and serve immediately, passing extra salsa, lime wedges, avocado, onions, cilantro, and tortillas on the side.
https://collabkitchen.com/ultimate-carne-asada/