There's always a "ham" in everyone's family. You know the type. The attention-drawers. The funny ones that keep family gatherings lighthearted and, well full of laughter. Especially when, say, your uncles get into a fist fight. (*ahem*)
The Hams, let's call them, redirect our attention to a better way of seeing things, putting aside differences and old wounds, so we can see clearly and live in the celebration. Hams help us all take ourselves a little less seriously and take the sacredness, fun and beauty of family and friends coming together a whole lot more seriously. There's a lot of healing and living that can happen in their "hamming" it up. They are miracle workers. If you're a Ham, thank you.
Wait, is this a food blog? I digress…
So here's our famous Family Ham recipe. It was birthed one Christmas day when my brother, sister-in-law and my mom were visiting us in our Phoenix home several years ago. We were all craving something yummy, delicious and "homey" and this ham my incredible husband labored hours over certainly delivered. Fortunately the only awkward part about this meal was the amount of ham that was devoured over a period of 8 hours.
Dinner was around 3 or 4 pm. Followed by a good couch-and-video-game session. Followed by more ham. Then a great game of Clue for the ladies, and more video games for the men (there may have been bourbon involved). This then became an occasion that required more assistance by, you guessed it, more ham… 5 adults and a 2-year old had completely eaten a 12 lb ham that day. No leftovers. Zero.
It's a day has gone down in family history. My sister-in-law was so overcome with ham fever that day… she was never quite the same again.
I dedicate this Family Ham recipe to my brother, Adam. The Original Ham. The one who keeps us all smiling.
Happy Easter!
Ingredients
Magic Dry Rub Ingredients for The Family Ham (Optional):
1/4 cup smoked paprika
1 tbsp mustard powder
1/4 cup unsweetened freeze-dried apples, (or any other dehydrated fruit as a natural sweetener), finely blended to a powder
1/8 cup chili powder
1/8 cup cumin
1/8 cup garlic powder
1 tbsp cayenne pepper
1/8 cup kosher salt, finely ground
1 tbsp finely ground black pepper
HAM INGREDIENTS (necessary):
1 (12 to 14-pound) fully-cooked, all-natural, bone-in ham, preferably shank-end*
2 1/4 cup brown mustard
2 cups dark brown sugar**
1-ounce bourbon (poured into a spritz/spray bottle)
2 cups crushed ginger snap cookies***
*Many happy, hammy returns! By buying bone-in ham you're left with the ham bone – great for flavoring soups and beans.
**For an "unrefined" sugar version, swap the brown sugar for any natural sweetener like unrefined brown sugar, maple syrup, molasses, barley malt and rice syrups, honey or agave nectar.
***Gluten free? Make your own GF ginger snap cookies and use natural honey or organic apple sauce in the recipe instead of refined sugar
Instructions
THE NIGHT BEFORE COOKING: Remove ham from bag, rinse and drain thoroughly. Trim the ham of any excess fat, leaving 1/4-inch of fat on the ham.
SCORE the fat on the top of the ham from bottom to top with a sharp knife. Keep spiraling clockwise as you cut. Rotate the ham after each cut so that the scores are no more than 2-inches across. Once you've made it all the way around, move the knife to the other hand and carefully repeat, spiraling counter clockwise. The aim is to create a diamond pattern all over the ham. (Don't worry too much about precision here.) Place the ham cut side down in a large roasting pan.
Option: SEASON the ham with dry rub. Place plastic wrap over ham and put in refrigerator. Allow the seasoning to penetrate the ham OVERNIGHT to give it a fuller flavor. Bring ham to room temperature by allowing to sit on the kitchen counter for at least an hour. Preheat oven to 250 degrees F.
TENT the ham with heavy duty foil, insert a thermometer, and cook for 3 to 4 hours or until the internal temperature at the deepest part of the meat registers 130 degrees. Remove ham from oven and use tongs to pull away the diamonds of skin and any sheets of fat that come off with them. Increase oven temperature to 350 degrees F.
DAB the ham dry with paper towels, then brush on a liberal coat of mustard. Sprinkle on brown sugar, or other natural sweetener you've decided upon. packing loosely as you go until the ham is coated. SPRITZ this sugar layer lightly with bourbon, then loosely pack on as much of the crushed cookies as you can.
INSERT the thermometer (don't use the old hole) and return ham to the oven (uncovered).
COOK until interior temperature reaches 140 degrees F, approximately 1 hour. Let the roast rest for 1/2 hour before carving.
https://collabkitchen.com/the-family-ham/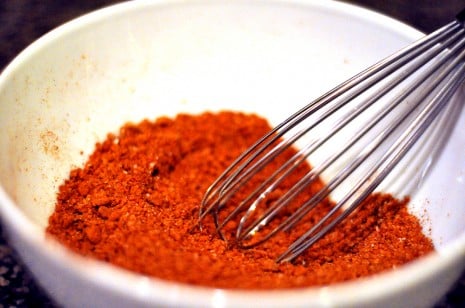 The dry-rub… Highly recommended!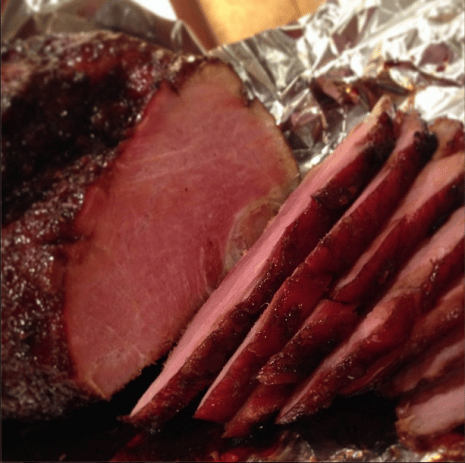 The reward for all your hard work!