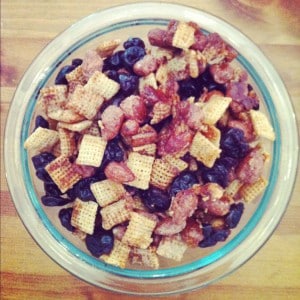 Good for a snack, party or on top of yogurt for breakfast, this caramelized treat will be a family favorite! The key here is "low and slow" baking of the gluten-free ingredients.
Gluten Free Snack Mix (sweet)
Ingredients
1/2 cup butter
1/2 cup honey
3 cups Cinnamon Apple Chex cereal
1 cup cinnamon-sugar almonds
1 cup dried cherries
Instructions
Preheat over to 275 degrees F. Line a baking sheet with parchment paper.
Melt butter and honey in a small microwave-safe container for 30 seconds. In a large bowl, pour melted butter and honey over the cereal and almonds and mix together. Pour onto the lined baking sheet and cook in preheated over for 45 minutes, stirring every 15 minutes or so. Add cherries immediately after removing mix from the oven. Serve alone or over yogurt.
https://collabkitchen.com/sweet-snack-gluten-free/