A few years back, we learned we love to grill an entire chicken under bricks. Seriously! We get a delicious, moist dinner every time. A trip to Lowe's or Home Depot and 2 bricks at $0.38 a brick, means you too can rock some brick chicken for Labor Day! Yum! (Way better than the greasy rotisserie stuff at the grocery store.)
Get a nice organic whole chicken, and learn how to "butterfly" it by checking out this video (you can do it!):
Then, buy a couple of bricks and wrap them in foil: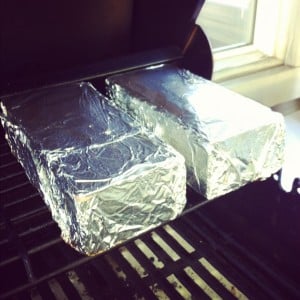 And follow this recipe to grill your bird. (Feel free to finish your brick wall afterwards.)
Herbed Chicken Under a Brick
Ingredients
1 cup olive oil
1/2 cup lemon juice
2 tablespoons minced garlic
1 tablespoon lemon zest
1 tablespoon freshly chopped rosemary leaves
1 tablespoon freshly chopped thyme leaves
1 tablespoon freshly chopped parsley leaves
1 teaspoon kosher salt
1/2 teaspoon crushed red pepper flakes
1 whole chicken, 3 to 3 1/2 pounds
1/2 teaspoon salt
1/2 teaspoon freshly ground pepper
2 bricks, wrapped in aluminum foil
Instructions
In a small mixing bowl, combine the olive oil, lemon juice, garlic, lemon zest, rosemary, thyme, parsley, kosher salt, and crushed red pepper.
Place the chicken on a cutting board. With a boning knife and/or poultry scissors, cut along both sides of the backbone and remove. Place the chicken skin side down on a clean work surface and, using a paring or small boning knife, cut underneath and around the breast bone on both sides, cutting the cartilage away from the flesh so that you can work your fingers underneath the bone, and then carefully remove the breast bone. (See above video for a good visual.) The chicken should lay flat like a book.
Place in a zip loc bag and add the marinade. Refrigerate for at least 2 hours and up to 6 hours, massaging the bag occasionally to evenly coat.
Preheat the bricks for 20 minutes: Place wrapped bricks in the grill and preheat the grill to its highest setting or about 500 degrees F. After about 20 minutes, lower the heat in the grill to medium-low.
Remove the chicken from the marinade and season on both sides with salt, and pepper. Place the chicken, skin side down, on the grill. Place the 2 bricks (use oven mitts!) on top of the chicken to cover completely and flatten. Cook until the skin side has nice grill marks, about 20 minutes. Remove the bricks and turn the chicken so that it is skin side up. Cook on the second side for about 15-20 minutes longer, or until juices run clear and an instant-read thermometer inserted into the deep portion of the thigh registers 165 degrees F.
Remove the chicken from the grill, place on a cutting board and let rest for 5 minutes. Cut the chicken into quarters and serve immediately. We love eating this with herbed polenta! [Adapted from Emeril Lagasse's Northern Italian-Style Chicken Under a Brick recipe.]
https://collabkitchen.com/herbed-chicken-under-a-brick/
And since you went to all that trouble to chop herbs, why not make this herbed polenta to serve with the chicken?