Hooray!!! This grilled and skewered miso shrimp recipe packs a punch in concentrated Asian flavors. -So much so that marinating isn't necessary. Just cover it with sauce and grill.
Adding spice or "heat" as we like to call it, is optional. Either include the cayenne into the miso sauce, or dust the shrimp at the end with the heat (especially if you have little ones or loved ones unaccustomed to spice).
We consider this a miracle recipe for the health or ingredient conscious too. It is so delicious and while having no oil, no salt, no soy, no gluten…. Say what??!!
Enjoy these delightful shrimp with our vegetarian spring rolls with, any time of year!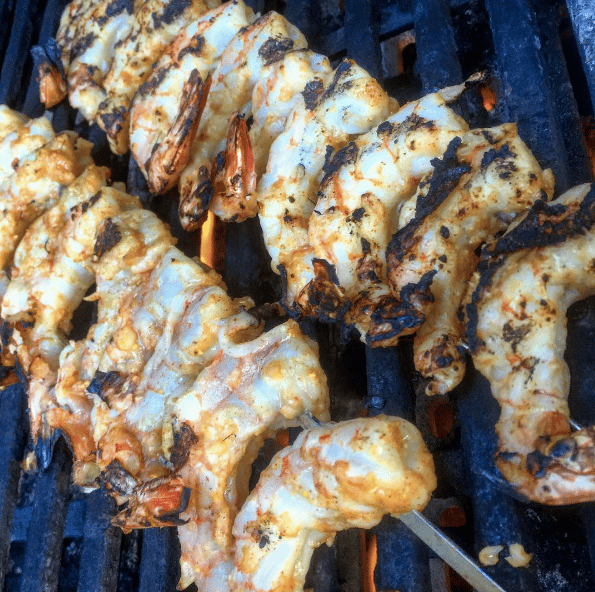 Ingredients
2 tablespoons minced shallot
1 tablespoon minced or zested ginger
1 tablespoon fish sauce (We like Red Boat brand)
2 teaspoons chickpea miso; *Note: We like to use Miso Master's Organic, Kosher, Soy-Free Chickpea Miso (or use regular white miso if soy is an acceptable alternative for you)
2 garlic cloves, minced
1 teaspoon sweet paprika
1/2 teaspoon or more cayenne, to taste (either reserved or use in sauce)
1 1/2 lb colossal or extra jumbo shrimp (ranging from 13 - 20 per lb), peeled, deveined, tail on
Instructions
Preheat grill to medium high heat. If using wooden skewers, soak skewers in water for 30 minutes.
In a small food processor, pulse together shallot, ginger, fish sauce, chickpea miso (or alternative), garlic, and sweet paprika. Option to include cayenne in this mix, or reserve for dusting after cooking. Pulse, then add 2-3 tablespoons of water. Continue pulsing until you've made a paste, being careful not to over pulse, as you want some texture in the sauce.
Place shrimp in bowl and pour sauce over shrimp. Toss to coat shrimp in the sauce. Skewer shrimp using two skewers for a single row of shrimp (double skewering provide stability on the grill). Grill, flipping once halfway through, until opaque, about 6-7 minutes. If you reserved the cayenne, dust only the shrimp for those who want the heat.
https://collabkitchen.com/grilled-miso-shrimp/