If you have small children or anyone who likes meatballs, here's a tropical twist that will have them dancing the hula. We have no idea if they eat these meatballs in Hawaii or not, but they are paradise for a weeknight meal. I updated this from my aunt's recipe using fresh pineapple and incorporated gluten-free, soy-free, and (sorry auntie!) lard-free ingredients. Aloha.
Ingredients
1 1/2 pounds ground beef or turkey
2/3 cup ground gluten-free corn flakes or other GF corn-based cereal
1/3 cup minced onion
1 egg (substitute 1 teaspoon baking soda if you want to skip the egg)
1 1/2 teaspoons kosher salt
1/4 teaspoon ginger
1/4 milk
1 tablespoon olive oil
2 tablespoons cornstarch mixed into 2 tablespoons water (slurry)
1/2 cup brown sugar (packed)
1/2 fresh pineapple cored, skin removed, and cut into bite sized pieces
1/3 cup apple cider vinegar
2 tablespoons soy sauce alternative (or 1 tablespoon soy sauce)
1 chopped green bell pepper
A few pinches of crushed red pepper, optional
Instructions
Preheat oven to 170 degrees F.
In a large bowl mix thoroughly beef, crumbs, onion, egg, salt, ginger, and milk, making any of the above-mentioned alternatives/substitution as you wish. Shape into 1″ into meatballs. Add olive oil to a large skillet over medium heat. Brown and cook meatballs through about 5 to 10 minutes. (Cooking time depends on your meat- turkey meat must be cooked thoroughly whereas ground beef may be slightly pink in the center.) Remove meatballs to an oven-proof plate and keep warm in an oven at 170 degrees F. Pour out any extra fat from the pan.
In a medium bowl mix cornstarch slurry, sugar, vinegar, and soy sauce alternative (or soy sauce) until smooth. Pour into skillet and cook over medium heat, stirring constantly, until mixture thickens and comes to a boil. Boil and stir for 1 minute more. Remove meatballs from oven and add meatballs, pineapple, and green pepper. Heat through 1 to 2 minutes. Serve with Basmati brown rice. Top with crushed red pepper for a little heat if you prefer. You can make these meatballs a day before, refrigerate, and then heat through when ready to serve. You may also freeze this dish for up to a month.
https://collabkitchen.com/waikiki-meatballs/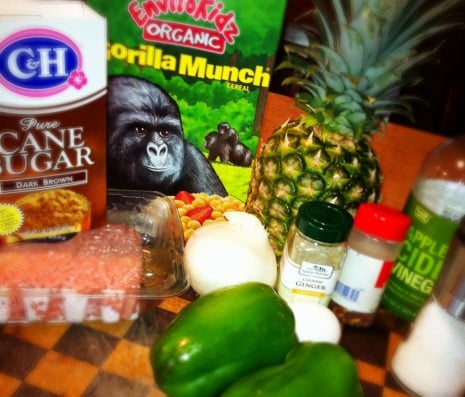 Ingredients ready for action.

Crush or blend gluten-free corn-based cereal.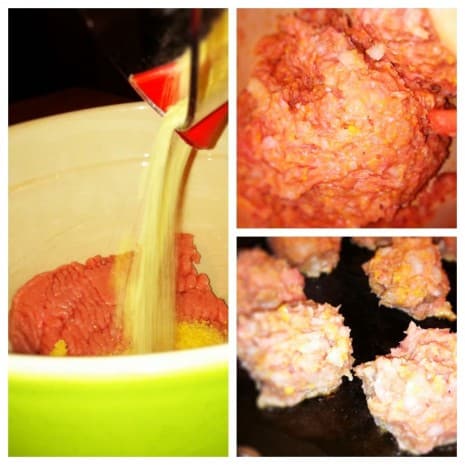 Pour cereal and other ingredients into meat.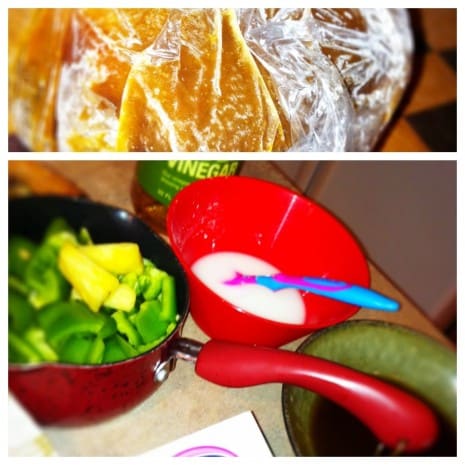 Collect sauce ingredients including a frozen chunk of soy sauce alternative that needs defrosting.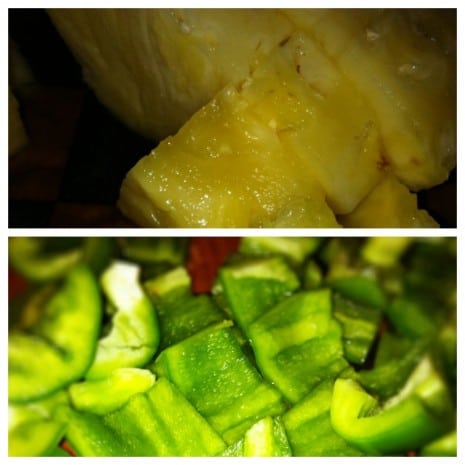 Pineapple and peppers go into the sauce. And are made for each other.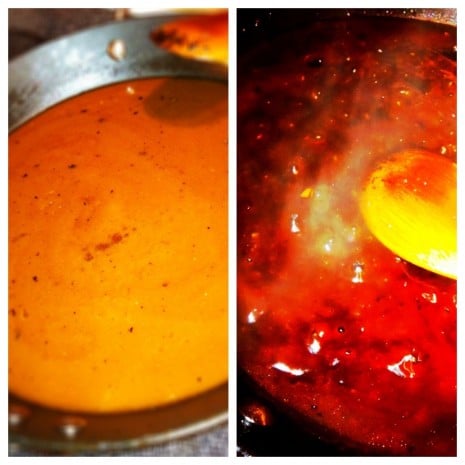 Cook the sauce until it becomes thick and bubbly. Then place the meatballs, pineapples and peppers in for a few minutes.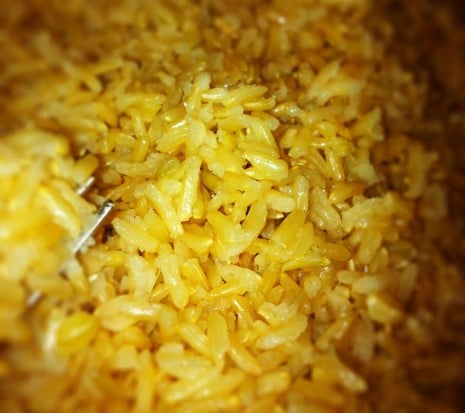 Place the combined meatballs, sauce, pineapple, and peppers on top of baked Basmati brown rice. (Click for our favorite baked method!)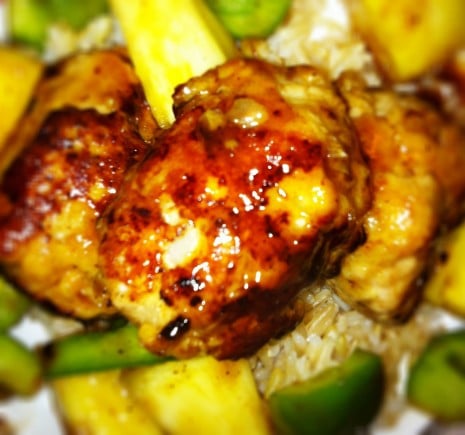 Island-inspired meatball love. Dig in!
72X9VZ7KAAPB