Slightly dense, very moist and wonderfully spongy, this gluten-free bread is a useful homemade delight for those who are gluten-free, reluctantly, or by choice! Its balanced, sweet and salty flavor with a hint-of-corn taste (sparing the intense 'cornbread' flavor) is perfect for french toast, sandwiches and croutons. We're so happy to share this with you. Enjoy!

    


    


      


        

Ingredients

1 packet yeast
1 tablespoon sugar
1 1/2 cup water at 105 degrees F
1 cup brown rice flour
1 cup corn starch
1/2 cup tapioca flour
1/4 cup masa harina
2 teaspoons xanthan gum
2 teaspoons salt
3 eggs
1 1/2 tablespoon vegetable oil
1 teaspoon cider vinegar
1 tablespoon honey

Instructions

Combine yeast, sugar in a small bowl and gently add warm water. Let mixture sit for 10 minutes or until bubbly. 
Meanwhile sift brown rice flour, corn starch, tapioca flour, masa harina, xanthan gum, and salt. 
In a separate bowl or standing mixer mix eggs, oil, and vinegar until the eggs are a bit frothy, about 30 seconds on medium speed. Add honey and let mix for a few seconds. Keeping the mixer going, add the foamy yeast mixture. Stop machine and put the kneading hook on. 
Turn on mixer again to medium and slowly add the flour mixture to the wet ingredients. Knead dough for about 4 minutes. [This will not be a typical "tight" dough (like gluten bread is usually at this point); don't be alarmed.] 
Turn dough into two well-oiled bread pans or one 2 quart pan. Cover with a clean towel and let rise for 1 hour, preferably in a warm (not hot) place.
Oven Method: Preheat oven to 375 degrees F. Uncover risen dough and brush the top with olive oil. Bake in the oven for 1 hour or until a knife comes out clean after piercing the middle of the bread.
Bread Machine Method: Scoop dough into bread machine and cook according to manufacturer's directions.

https://collabkitchen.com/spongy-gluten-free-bread/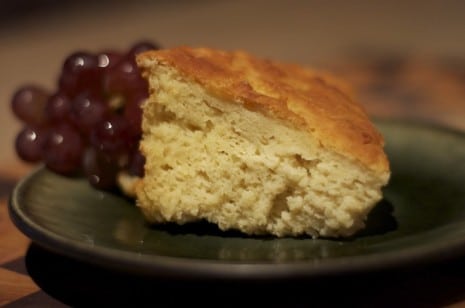 Slightly dense, very moist and wonderfully spongy.