The first time we had this tropical chutney  was at Ariel's Grotto restaurant and it paired perfectly its entree, red snapper. This restaurant totally surprised us with their culinary delights that evening! Technically speaking this restaurant is inside the California Adventure park, right across from the 'happiest place on earth.' Within hours of returning home, we were formulating our plan to recreate this chutney-fish marriage. Don't let the pepper quantity fool you, when seeded and devined the jalapeños add a delightful flavor without packing a punch in your mouth. Have we mentioned how well jalapeño and pineapple to together lately?
Ingredients
1 tablespoon olive oil
1 medium onion, diced
2 tablespoons ginger, peeled and minced
6 jalapeños, seeded and deveined and diced
1 tablespoon cumin seed, toasted and ground
1/2 cup rum
1 fresh pineapple diced
1/2 cup fresh lime juice (approximately 3 to 4 limes)
1/2 cup raw sugar
1/4 cup cilantro, chopped
Kosher salt and freshly ground black pepper
Instructions
In a medium sized saucepan over medium sauté add 1 tablespoon olive oil. Sauté onions, ginger, jalapeños, and cumin for 6 minutes. Add rum and cook until almost evaporated. Add pineapple, lime juice, and sugar. Bring to simmer and remove from heat. Add cilantro, salt and pepper to taste. Serve with red snapper or any other white fish.
https://collabkitchen.com/pineapple-chutney/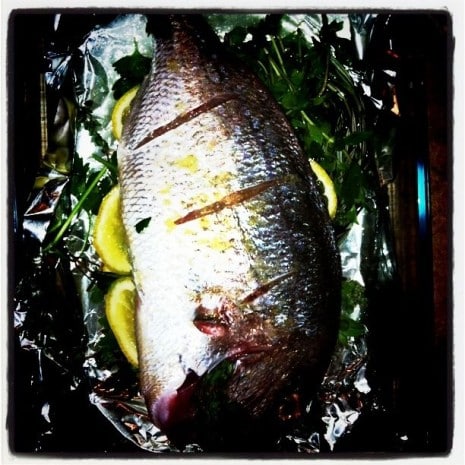 Serve on top of a delicious roasted red snapper!