It is so worth the effort to make your own chicken soup. Fresh herbs and vegetables are such a beautiful ensemble, swimming around the perfectly cooked chicken. Try this soup when nurturing and thriving are a must in your home. The only question that remains… Noodles or rice?
Our Favorite Chicken Soup
Ingredients
1 whole chicken (between 3 and 4 pounds)
1 quart chicken stock (4 cups)
2 quarts water (8 cups)
2 white onions, quartered
2 carrots, roughly chopped
2 celery stalks, roughly chopped
5 sprigs fresh thyme
Bunch of Italian parsley stems
2 bay leaves
2 tablespoons unsalted butter
1/2 cup crimini mushrooms (Baby Bella), sliced
1 diced white onion
1 sliced carrot
1 sliced celery stalk
1/2 tablespoon salt
1/2 teaspoon ground black pepper
8 ounces cooked cut spaghetti noodles OR 8 ounces steamed arborio rice (gluten-free option)
1 lemon, juiced and zested
1/2 teaspoon nutmeg
2 tablespoons chopped Italian parsley leaves, garnish
2 tablespoons shredded parmesan cheese, garnish
Serve with cut spaghetti noodles (al dente), or steamed arborio rice (gluten-free option). Top with homemade croutons for some flavor and crunch.
Instructions
Place the chicken in a large stockpot and cover with the chicken stock and water. Add the onion quarters, roughly chopped carrots and celery, thyme, parsley stems, and bay leaves. Bring mixture to a boil and reduce heat to a simmer. Partially cover with lid and simmer for 1 hour.
Using tongs, remove the chicken from the broth and set aside until cool enough to handle. Strain the cooking liquid through a fine-meshed strainer. Discard the cooked vegetables, bay leaves and reserve the stock. Pull the chicken meat off the bones, discard the bones, skin, and fat. Shred and reserve the chicken meat.
Wipe out the stockpot then melt the butter in it over medium-high heat. Add crimini mushrooms and cook until browned, approximately 2 to 3 minutes. Add the diced onions, sliced carrot, and sliced celery and cook until the vegetables are softened, approximately 2 to 3 minutes. Stir in cooked chicken and reserved chicken stock and bring to a boil over high heat. Reduce to simmer.
Season the soup with salt and pepper. Squeeze lemon's juice into the soup and its zest along with the ground nutmeg. Remove from the heat and stir in parsley. Serve hot with cut spaghetti (al dente) or steamed arborio rice (gluten-free option) and home made croutons. Top with chopped parsley, shredded parmesan cheese and homemade croutons.
P.S. If one or some of us happens to be 'under the weather' in our household, we make a hot and spicy version of this soup, adding chopped jalapeño and serrano peppers during the final vegetable-softening process, and serving it, of course, with Sriracha. It may not be medically proven, but we feel like we're burning away 'the sick' with this peppery version of chicken soup!
https://collabkitchen.com/our-favorite-chicken-soup/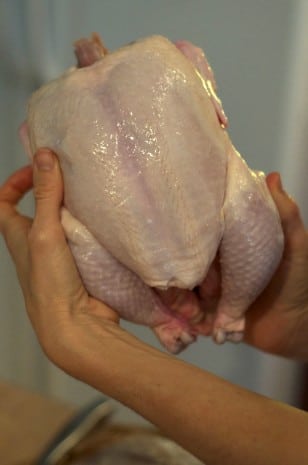 Wash and discard giblets of one whole chicken.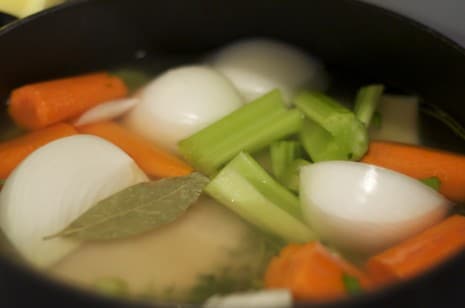 Simmer the roughly-chopped vegetables, herbs, chicken stock, water and whole chicken for 1 hour.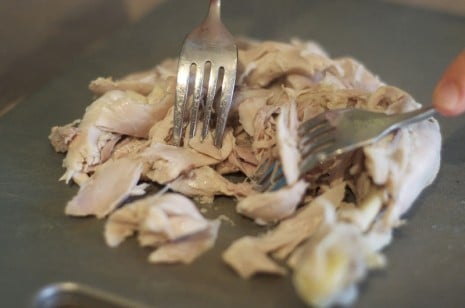 Reserve strained chicken stock and move chicken to a cutting board.
Shred chicken meat into bite-sized pieces.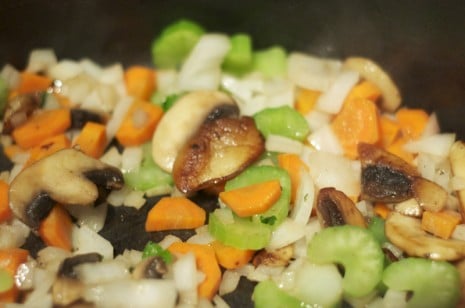 Brown and soften mushrooms first, then the remaining vegetables.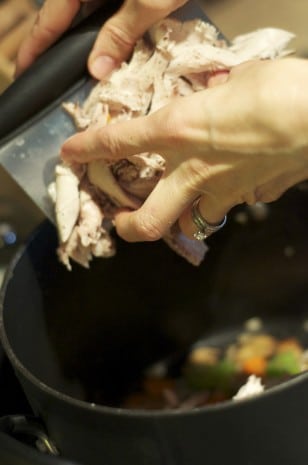 Add shredded chicken to the vegetables.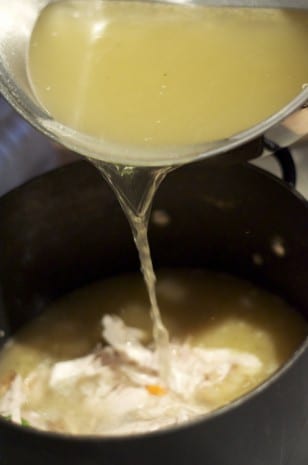 Pour reserved broth over shredded chicken and softened vegetables.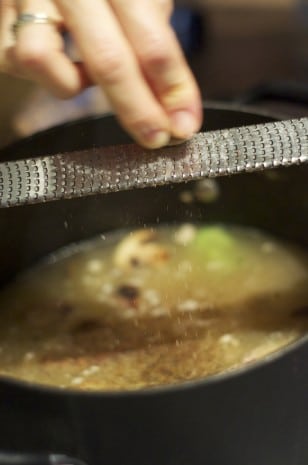 Add salt, pepper and grated nutmeg to the soup.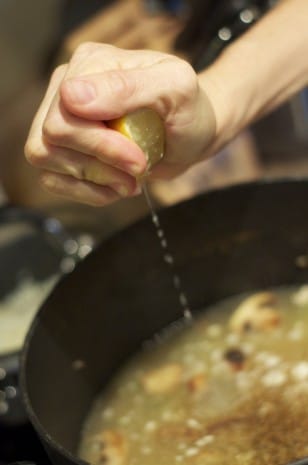 Add juice and zest of a lemon to the soup.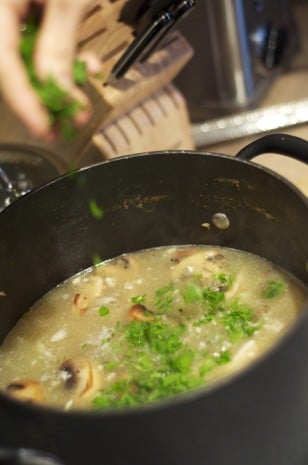 Finish it off with a sprinkling of freshly-chopped flat leaf parsley.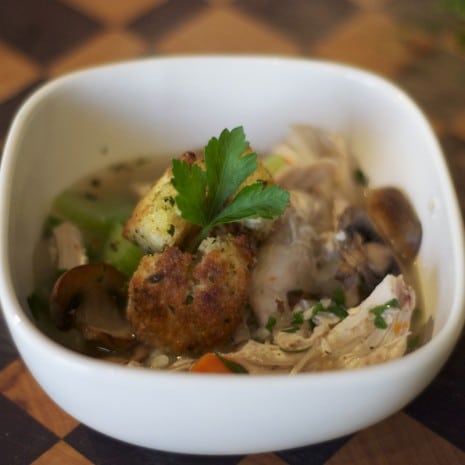 Chicken soup with some homemade baked and herbed croutons.
Recipe adapted from Simple Chicken Noodle Soup.