Flavor-pack chuck roast. Giardiniera of the gods. All snuggled into a hoagie roll and quickly dipped into a luscious jus bath. Honestly, I don't know if my husband has met a better sandwich. In fact, we've made this post roast sandwich three times in the past month – a first for us because we need variety, especially you-know-who. (It's true Brent. I can't get away with making fajitas three times in a month and you know it!)
The hot giardiniera turns up literally on every dish we eat nowdays for breakfast, lunch and dinner – all are free-game for a hot giardiniera embellishment. Speaking from personal experience, this sandwich has attracted friends and family members in droves, all staking their claim on this Italian masterpiece.
We don't know what's better: fall-apart, moist meat; sultry, salty, herby, and peppery jus; or the hot vegetable garden of the giardiniera (truly our latest obsession). Guess that's why it's all stuffed into a sandwich so that you can get the best of everything!
Chef Jeff Mauro, the Sandwich King of the Food Network created this recipe and we are eternally grateful. Below is mostly the original recipe, but we included a few tweaks based on our preferences.
Tip: Begin making the hot giardiniera two days before making the pot roast so that it develops the proper flavors and textures.
Gluten-free peeps: We love to use Chebe Bread– an awesome, gluten-free, soy-free and potato-free bread mix you can bake into sub-size rolls.
Italian Beef Pot Roast Sandwich
Ingredients
1 boneless beef chuck eye roast (3 1/2 pounds)
Kosher salt and fresh ground pepper
2 tablespoons canola oil
1 medium onion, rough chop
1 tablespoon dried Italian seasoning
2 teaspoons crushed red pepper
6 cloves garlic, roughly chopped
1/2 cup dry red wine
4 cups beef stock
4 sprigs fresh thyme
4 soft sub or hoagie rolls

Hot Giardiniera

1/4 cup table salt
1 cup small-diced carrots
1 1/2 cups tiny cauliflower florets
6 serrano peppers, sliced
3 cloves garlic, minced
1 stalk celery, diced small
1 red bell pepper, diced small
2 cups canola oil
1 tablespoon oregano
1/2 teaspoon freshly ground pepper
Instructions
Italian Beef Pot Roast

Preheat oven to 300 degrees F.
Combine a 2 to 1 ratio of kosher salt and pepper into a small bowl. Then sprinkle the entire roast with the mix. Heat oil in a Dutch oven over medium-high heat. Brown the roast on all sides until golden and caramelized (reduce heat if fat smokes).
Transfer roast to a plate and reduce the heat to medium. Saute onions, stirring occasionally, until just beginning to brown, approximately 8 to 10 minutes.
Add the Italian seasoning and crushed red pepper and saute for 30 seconds, until fragrant. Add the garlic and saute until fragrant, about 30 seconds.
Add the red wine to deglaze; cook until the alcohol smell is diminished. Add in the stock and thyme and bring the jus to a simmer. (Make any adjustments to the jus seasoning.)
Place the roast back into the pot with any accumulated juices and place in the oven. Cook the roast, turning every thirty minutes, until very tender, 3 1/2 to 4 hours.
Transfer the roast to a cutting board and tent with foil. Strain the jus through a fine mesh strainer into a bowl and return back to the pot. Bring to a simmer and adjust the seasoning if necessary. Once cooled a bit, pull the meat into smaller chunks and reserve for the sandwiches.

Hot Giardiniera (make two days in advance)

Combine 2 cups water and salt in a glass bowl and mix until salt is dissolved. Add carrots, cauliflower, serranos, garlic, celery and bell pepper to the salt water and stir to combine. Cover and refrigerate overnight.
Day 2 - Drain and rinse the vegetables. In a clean bowl, mix together the oil with the oregano and pepper. Add the vegetables and mix to combine. Allow to marinate overnight. After 2 days, place in air-tight jars and keep in the refrigerator for 2 to 3 weeks.

Build Sandwich

Reduce and simmer the jus until flavorful and hot. Place jus into bowls for dunking. Fill the sub or hoagie rolls with the pulled beef, and some of the Hot Giardiniera. Take the sandwich and quickly dunk in the hot jus and place in your mouth for the best sandwich in town!
https://collabkitchen.com/italian-beef-pot-roast-sandwich-with-hot-giardiniera/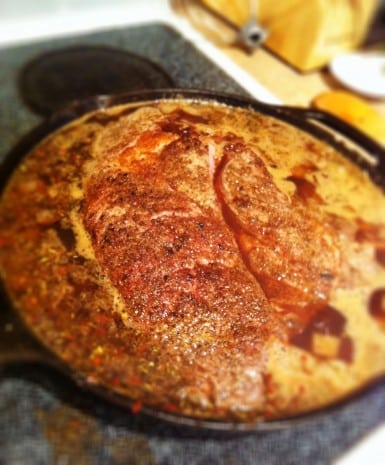 Seared and flavor-infused chuck roast on the stove top.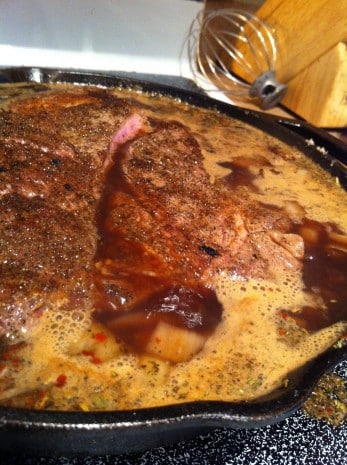 This first step of stove-top preparation is essential for rendering the ideal flavor of the beef, italian seasonings and red wine combination.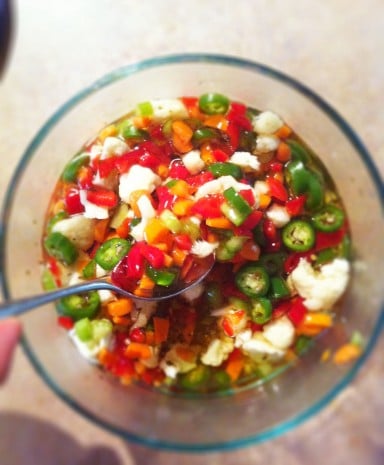 Brent's gastronomical obsession right there: hot giardiniera.
He literally ran over to this giardiniera with a spoon as I was attempting to take this picture. That's his hand.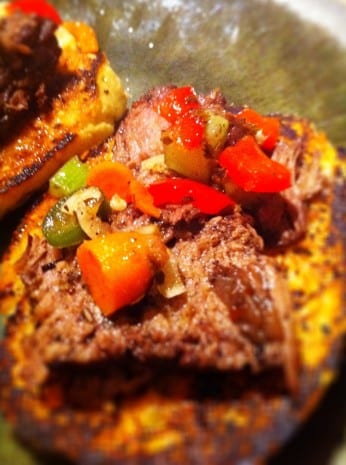 This could use more giardiniera, but it'll do for now.