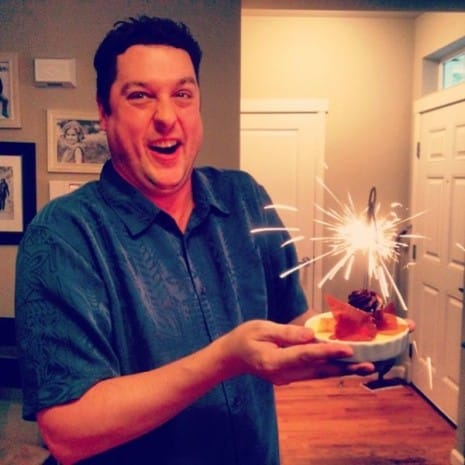 Brent turned 40 last month. In honor of his birthday (and the fact that we're moving to a new home soon), we decided to have a small dinner party with close friends and… have it catered. Oh yes we did.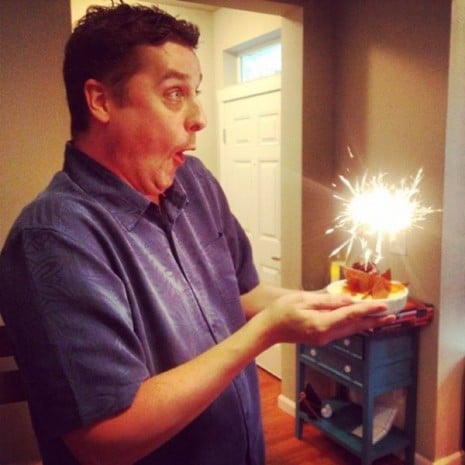 He looks so happy! He'll probably kill me because I'm posting these.
So, here was my internal struggle of the night… [feel free to skip this paragraph if you'd rather not partake in the struggle]: Make party food or get the whole thing catered? Could we have spent countless hours and days planning and preparing a scrumptious meal? Sure! Did I miss not making our own food for our friends? A bit. But after 21 years of knowing my husband, and throwing him many a party (where we both run around like crazy chickens making awesome food), it was high time to put our feet up and have a casual, but classy catered meal with flavors that were outside our "wheelhouse" so to speak. And that's my husband in a nutshell by the way… casual but classy (mixed with zany and voltron).
Believe me we had so much fun laughing and chatting with close friends and having a spontaneous midnight dance party with the kids, that I didn't miss being the chef all that much. Really it was awesome just focusing on friends, family, kids and Brent. Sounds like I'm getting old(er). Next year, we're on again for BBQing, or making something slow-roasted and developing a new chutney or salsa or something. And it will be spicy. I missed the spice. But I digress…
This year, we were catered to and it was awesome.
So, here's the delightful "Hearty Appetizer Buffet" that Lisa Dupar Catering put together for Brent's birthday:
Brent Spore's "Holy Lordy He's 40" Birthday Celebration Menu Hearty Appetizer Buffet ~ 6:00 PM
Roasted Baby Vegetable and Potato Salad
pickled dill, dill seed, black olive
& cara cara orange dressing
House-made Mozzarella and Pineapple "Caprese"
with sweet chili glaze & Thai basil
Northwest Crab and Artichoke Dip
with house garlic crostini
~ house garlic crostini (wheat)~
~ gluten free crackers ~
Basil Citrus Marinated Prawns ~ 3 per guest
with gin lime cocktail sauce
Whisky Sour Glazed Beef Skewers
Chipotle Beef Brisket Salad Wrap ~ 2 per guest
with roasted tomatoes, avocado & cilantro
Tandoori Chicken Empanada
with pickled mango, caramelized onions & scallion dip
~ gluten free ~
Chilled Green Spring Vegetable Selection
grilled asparagus, fava beans, haricots verts,
romanesco & cucumber with herbal vinaigrette
Lemon Verbena Creme Brulee
with caramelized sugar
~ gluten free ~
~All items gluten and soy free with the exception of the garlic crostini.~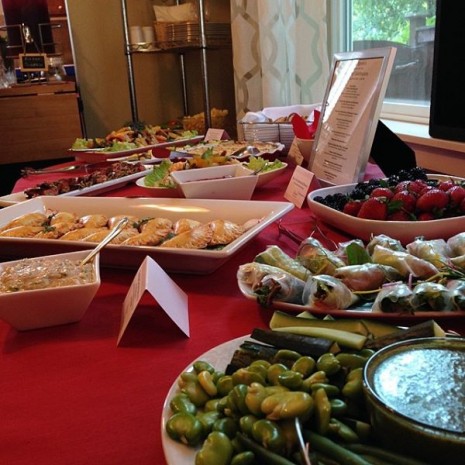 Out of all that goodness, my absolute favorite was the simplest – the House-made Mozzarella and Pineapple "Caprese" with sweet chili glaze & Thai basil. I just died (in a good way!) at how pineapple, basil and mozzarella went so well together. The skewers were easy to make: small cube of mozzarella, tiny wedge of pineapple with a small part of a basil leave wedged in between them, all on a delightful tiny skewer. Simple bliss. Your own your own for the sweet chili glaze recipe (until I crack it).
Brent pre-made and served his very own house specialty drink for the evening. He spent about 2 weeks perfecting a Blueberry Lime Mojito aka "Bubba's Island Surprise." After a brief episode with the glass jar malfunctioning (and a third of the drink descending to the floor), our guests enjoyed this beverage thoroughly, mop in hand and everything! Bubba's Island Surprise tastes every bit as good sans the alcohol. We hope you try making it and enjoy it too. Happy birthday my dear husband!