Super foods = super tasty ? When that super food is from Brazil, absolutely.
The especially-nutritious, tiny black-ish-purpley palm fruit called açai hit the market a while back offering lots of antioxidants and healthy fat. It tastes like blackberries, blueberries and strawberries mixed with a little bit of chocolate.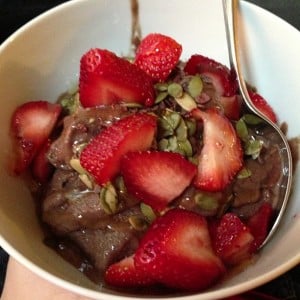 If anyone's been to a smoothie shop recently, especially in SoCal, you'll run into a (cult?) favorite, the Acai Bowl. It's basically a thick, protein-dense smoothie with nutritious toppings. Great for breakfast.
Like any good smoothie, there are lots of options to trick out your bowl. And like any good smoothie shop in SoCal, you'll pay close to $10 for your bountiful breakfast bowl. So why not make it at home?
Admittedly, there's a bit of an initial investment and time commitment when you make them, but I totally dare you to do it. You can use a regular blender too! Besides saving cash, it really is fun to get creative with your ensemble.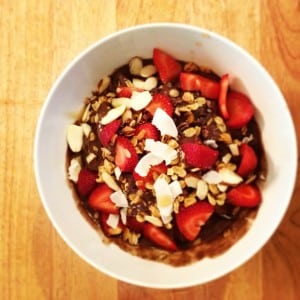 There are two components to an açai bowl, the frozen base and toppings. The combinations are limitless.
Ideas for the base
Açai Smoothie Packs, Sambazon brand is stellar and found in the freezer section
Protein powder
Cocca powder
Any sort of nut butter, we like almond, hazelnut or cashew
Any sort of frozen fruit like strawberries, blueberries, mango, etc
Fruit juice such as apple, berry, mango
Alternative milk like coconut, rice or almond milk
Coconut water
Any combination for the frozen base will do. It all depends on your taste. The only mandatory ingredient, in my opinion, would be the açai.
Ideas for toppings
Granola
Nuts and seeds like almonds, pepitas, cashews, walnuts – sliced or crushed if needed
Fresh fruit like strawberries, blackberries, mango, banana – we like both sweet and tart
Coconut flakes
Agave and/or honey to drizzle on top
Cocoa nibs
Mint for garnish if you intend on Instagram'ing your masterpiece
Here's one recipe to start you off on a great energy-filled day. Feel free to add your own twist!
Ingredients
Base
2 açai smoothie packs (broken into pieces if your blender needs the help)
1 scoop protein powder (Vega One is a great allergen-free brand)
1 tsp cocca powder
1/4 cup frozen strawberries
1/4 cup frozen mangoes
1/4 - 1/2 cup coconut water or vanilla almond milk
Toppings
1/4 cup gluten-free granola
1/8 cup sliced almonds
1/2 cup sliced fresh strawberries
1 tbs coconut flakes
1 tbs cocoa nibs
2 tsp agave nectar to drizzle on top
Instructions
In a blender add açai smoothie packs, protein powder, cocca powder, frozen strawberries, frozen mangoes, coconut water (or almond milk). Pulse and/or blend until thick and creamy (not too watery). Add more water or milk if needed.
Transfer blended mixture to 1 larger bowl or 2 smaller bowls and top with granola, almonds, strawberries, coconut flakes, cocoa nibs. Drizzle the agave on top. Consume with delight.
https://collabkitchen.com/acai-bowl/