We're all about mixing things up here at CollabKitchen. So we thought we'd throw caution to the wind and abandon the confines of a traditional corn or flour tortilla for an enchilada. Here enchilada ingredients are embraced by a sweet potato. (Come on, give me a hug deliciousness…!) We went with a green sauce for this version, but we're willing to bet a traditional red sauce would be an excellent addition. Here's our new take on a Latin American classic.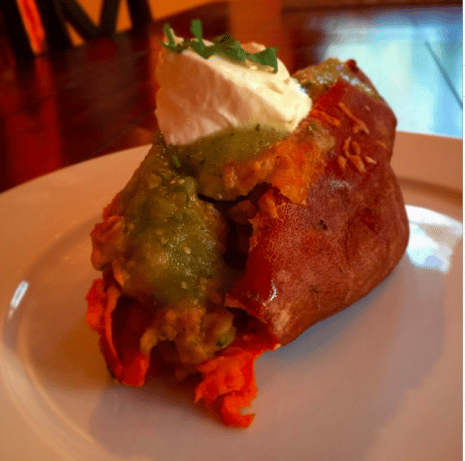 Sweet Potato Salsa Verde "Enchiladas"
Ingredients
**

Green Sauce "Salsa Verde" ingredients

15-18 tomatillos, husked and rinsed
1 medium white onion, peeled and cut in half
1 serrano chile or jalapeno, stem removed
2 yellow chiles (guero), stems removed
4 cloves garlic
1 cup fresh cilantro leaves, loosely packed
Zest and juice of 1 lime
Kosher salt and freshly ground black pepper
**AMAZING SALSA ALERT! Double the green sauce recipe and you can have a delicious salsa for your chips, hamburgers, hot dogs. sandwiches, breakfast eggs... most anything savory! And mixing in an AVOCADO will take this sauce over the top into the realm of super-awesome. This salsa will stay fresh in the fridge for up to a week!

Remaining ingredients

4 medium sweet potatoes
1 tsp olive oil
1/2 onion, chopped
1 clove garlic, minced
1 tsp cumin
1 tsp chili powder
1 tsp dried oregano (Mexican oregano preferred!)
12 oz bulk breakfast chicken sausage (casings removed if applicable)
Instructions
MAKE SALSA VERDE -- Put the tomatillos, onion, serrano, yellow chiles and 3 cups water in a medium, heavy saucepan. Bring to a boil over medium-high heat. Cover and boil until the tomatillos turn olive-green color, about 10 minutes. Drain and transfer the tomatillos, onion and chiles to a blender or food processor (discard drained water). Add the garlic, cilantro, zest and juice of lime and blend until smooth. Season with salt and pepper. Set aside to cool.
Preheat oven to BROIL setting.
BAKE SWEET POTATOES using your favorite baking method (oven, microwave, etc). Here's a link with baking options. Allow the potatoes to cool until you can handle them. Then cut a slit into the skin of each potato (top to bottom longways) leaving a 1/4" at the top/bottom uncut. Use a spoon to carefully scoop out the baked potato while keeping the skins intact. Reserve both scooped sweet potato and the empty skins.
COOK THE CHICKEN SAUSAGE by first sautéing the onion and garlic in 1 tsp olive oil for a few minutes on medium heat in a medium pan, until softened. Add the cumin, chili and oregano along with the breakfast chicken sausage and cook meat entirely through. Add a bit of water or chicken broth if beginning to stick to bottom before fully cooking. Drain and set aside.
PREPARE THE ENCHILADA STUFFING by mixing together in a large bowl the scooped sweet potato, cooked chicken sausage and 1/2 C - 3/4 C (or to taste) of the green salsa. Divide the mix into 4 equal parts (just make a cross in the mix using the handle of a wooden spoon) and evenly distribute portions, carefully scooping the mix back into the sweet potato skins. Place on a baking sheet.
Top sweet potatoes with a bit of cheese, if using (goat cheese, queso blanco, monterey jack... you decide or simply omit). Otherwise broil sweet potato enchiladas until cheese or potato mixture has slightly browned, about 5 minutes (continue to visually check during broiling as every oven is different).
TOP sweet potato enchiladas with more green sauce, olives, cilantro, chopped green onion, sour cream, and any other "enchilada" type topping you like. Enjoy!
https://collabkitchen.com/sweet-potato-salsa-verde-enchiladas/