Spring rolls are a wonderful, light meal whose filling can be made in limitless combinations. Here, we have traditional Vietnamese flavors paired with smoky bacon bits, as opposed to slow-cooked pork, to make a faster "shrimp-and-pork" vegetable roll. We also updated the commonly served peanut dipping sauce by abandoning peanuts altogether. Instead we include another Asian favorite the rich and delicious cashew. This sauce will be the perfect dipping partner for your spring rolls.
For the new, veggie version, click here!
Spring Rolls and Cashew Sauce
Ingredients
Spring Rolls

1/2 pound thin rice noodles (we use Maifun brown rice noodles)
1 pound boiled shrimp, sliced in 1/2 lengthwise
1 thinly sliced cucumber
1 1/2 cups shredded spinach
1 bunch of mint leaves
1 bunch of cilantro
1 bunch of Thai basil leaves
1 jalapeño, seeds removed and thinly cut lengthwise
1 red bell pepper, seeds removed and thinly cut
1 carrot, cut into julienne
1/2 cup bacon bits, optional
12 10-inch rice or tapioca spring roll wrappers

Cashew Dipping Sauce

1 teaspoon olive oil
1 shallot, minced
2 cloves garlic, minced
1 tablespoon tomato paste
2 tablespoons chili paste
1 teaspoon sugar
1/4 cup chicken broth
1 cup cashews
1/2 cup coconut milk, unsweetened
1/4 cup fresh lime juice
1/8 cup soy sauce or soy sauce alternative
1 tablespoon fish sauce or shrimp stock
2 teaspoons ginger powder
3/4 cup tahini
1/4 cup cilantro leaves
Kosher salt, optional
Instructions
Spring Rolls

Cook noodles according to package directions. Rinse under cool water and set aside.
Assemble rolls one at a time. Dip 1 spring roll wrapper into lukewarm water and transfer to a clean and damp kitchen towel. (Wrapper will soften within seconds.)
Lay several shrimp halves in a horizontal line across the center of each wrapper and top with a few tablespoons of cooked noodles.
Top the noodles with 2 slices of cucumber, 2 tablespoons or so of the shredded spinach, 2 mint leaves, 2 sprigs of cilantro, and 2 basil leaves. Continue filling with 1 jalapeño strip and 1 red bell pepper strip. Place a few sticks of carrot along the top of the filling ingredients and sprinkle on top 1/2 teaspoon bacon bits, if using.
Carefully pull the lower edge of the wrapper up and over the filling. Fold the 2 sides inward over the filling and press to seal. Work carefully and try not to tear the wrapper. Once both sides are folded inward over the filling, roll the spring roll upwards so that the filling is tight inside; roll up to seal. Set the spring roll aside on a dish, covered with a damp paper towel. Repeat with the remaining wrappers and ingredients.
Once you have assembled all of the spring rolls, slightly chill for 20 minutes in the refrigerator, covered with the damp paper towel.
Serve immediately with the Cashew Dipping Sauce (recipe follows) on the side for dipping.

Cashew Dipping Sauce

In a small saute pan, heat olive oil over medium heat. Saute shallot and garlic for 1 minute. Add tomato paste, chili paste, and sugar and saute for 2 minutes. Add chicken broth and bring mix to a boil. Remove from heat and set aside.
In a food processor, blend cashews for 1 minute, or until mealy.
Add the shallot-garlic paste mix and the remaining ingredients: coconut milk, lime juice, soy sauce (or alternative), fish sauce or stock, ginger powder, tahini, cilantro and salt (if using).
Blend all ingredients in food processor adjusting flavors and thickness your taste and texture preferences. Serve along with the Spring Rolls as a dipping sauce.
https://collabkitchen.com/spring-rolls-and-cashew-dipping-sauce/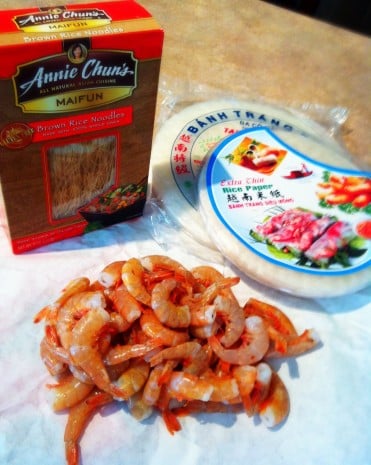 Some of the spring roll ingredients: Brown rice noodles, shrimp and rice paper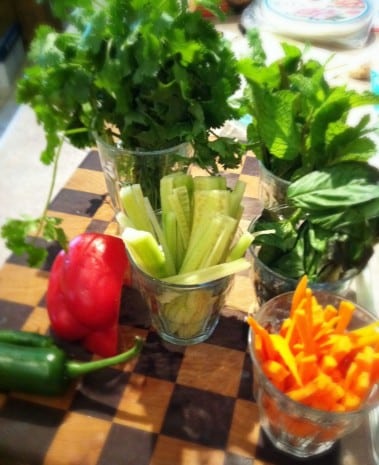 Prepped vegetables for spring rolls include:
cilantro, basil, spinach, cucumber, red bell pepper, jalapeño and carrot.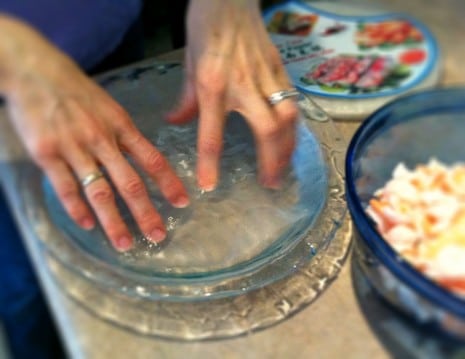 Dipping spring roll paper (either tapioca or rice) into warm water in a pie plate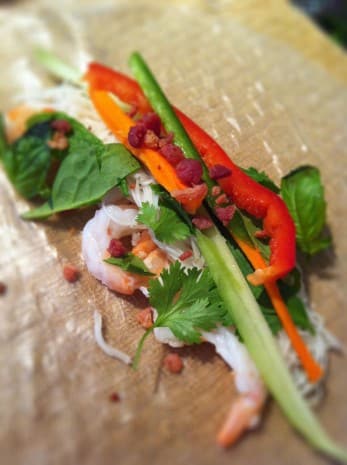 Layered spring roll ingredients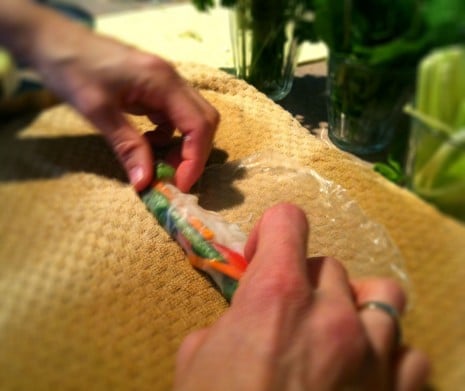 Tightly rolling the filling inside the paper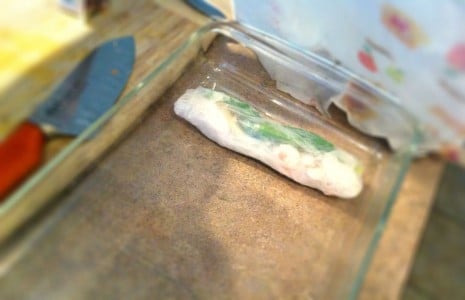 Place prepared spring rolls in a pan covered with a damp paper towel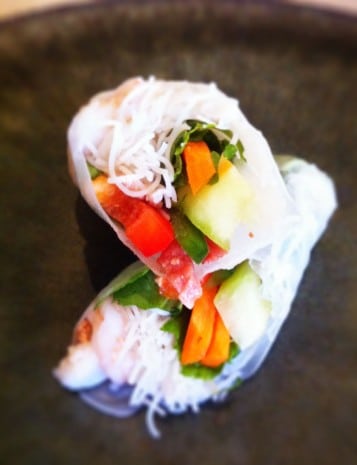 The Spring Roll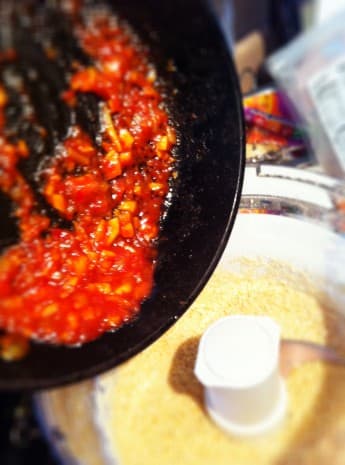 Place sauteed shallot-garlic pasted into processed cashews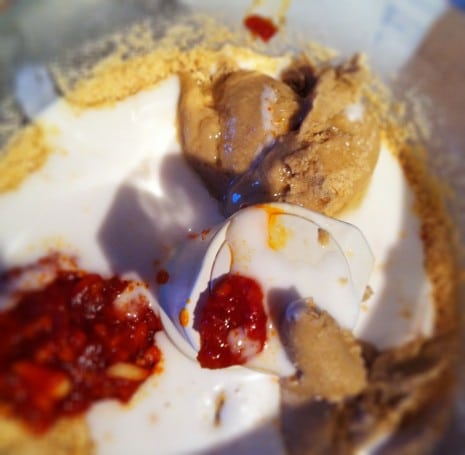 Add remaining ingredients and blend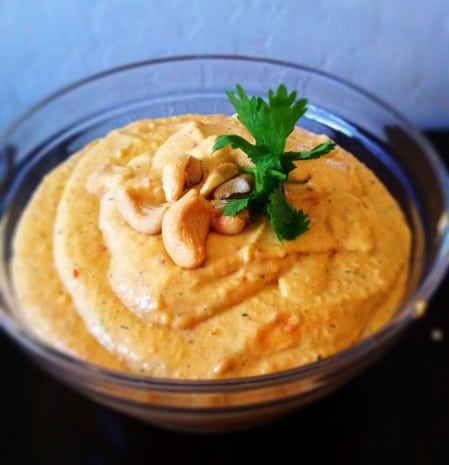 Cashew Dipping Sauce