The pumpkin-ification (pumpkin-ing?) of things seems to happen a lot to our food and drink in the fall. And why not? This pretty sunset squash is rich in vital antioxidants and vitamins (especially Vitamin A!) and is low in calories. And, it just tastes so darn good with warm spices and flavors!
Well, you asked for it, so here it is. Our gluten-free, tiny pumpkin cheesecake recipe. We wanted to take this recipe in so many directions (making them cheesecake bars, making it a two-layer cake with one layer being just plain old cake and the other cheesecake, playing with unique flavors and spices like cardamom,  coconut, or even making is a little boozy). But in the end, we decided to keep it simple and yummy. And, because Brent's not a huge in-your-face-with-pumpkin kind of guy, we reduced the amount of pumpkin typically found in most recipes. We also decided on portion control and supreme cuteness by using some newly-acquired petite covered casserole dishes also known as 'cocottes.' These shareable and mini round vessels are perfect for serving for your family and friends this fall-flavored treat!
P.S. This is a MAKE AHEAD recipe as the cheesecake needs to chill in the refrigerator overnight.
Hands on time: 25 minutes; Baking time: 40 minutes; Inactive time: 12-24 hours
Crust Ingredients
1 3/4 c gluten-free ginger snap cookies (approx 7 oz)
3 tbs melted butter
Cheesecake Ingredients
16 oz cream cheese, room temperature
1/2 cup sugar
1/4 cup powdered (confectioner's) sugar
2 eggs, room temperature
1/2 c heavy cream
1 tbs fresh-squeezed lemon juice
1/2 tsp vanilla
1 tsp pumpkin pie spice blend
1 tsp salt
7 oz pumpkin puree
Place oven racks in center and lower third rack positioning. Preheat oven to 325F.
Coat tiny cocottes/ramekins with soy-free nonstick cooking spray. Fill a large roasting pan with hot water up to 1/3 to 1/2 way full (a "water bath"), measuring to ensure it will not spill into your cooking vessels.
Pulse ginger snaps in a food processor until fine. Add butter and pulse until moistened. Press mix into bottom of prepared cooking vessels. Bake until golden brown and fragrant, approximately 12 – 15 minutes. Cool completely.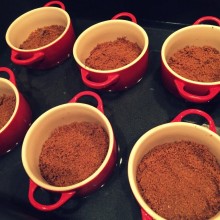 In a standing mixer fitted with a paddle, beat cream cheese until smooth. In a small bowl, wisk in sugars, spice and salt together. Add spiced sugar mix to cream cheese with machine running, pausing to scrape bottom and side of mixing bowl.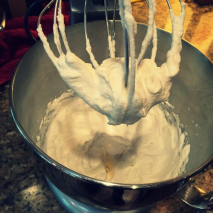 With the mixer running, add pumpkin puree a spoonful at a time. Add eggs, one at a time. Add remaining ingredients and beat until just mixed through. Do not overmix.
Place cooled cooking vessels with crust into water bath, being careful not to let water pour into vessel. Divide cheesecake batter evenly into vessels.
Place water bath with cheesecake batter-filled vessels into preheated oven. Cook until the outside of the cheesecake is set and the middle is slightly jiggly, approximately 40 minutes, or 155F on the interior using an instant read thermometer.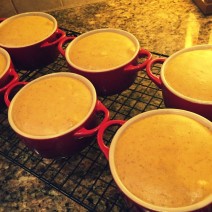 Cool completely on the counter. Wrap with plastic wrap and refrigerate overnight. Serve with your best whipping cream!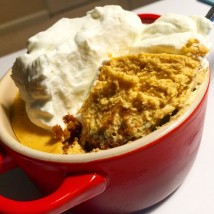 (Cook's note: Our cocottes are 4″ diam., 2″ high; 13.25 oz.)