Literally, "Swiss Enchiladas," this sweet tomatillo-based 'green' sauce and creamy toppings is a delicious variation on traditional red enchiladas. As the story goes (not sure if it's entirely true… just what was told to me when living in Mexico), a Mexican chef wanted to impress his Swiss guest, so he made a creamier version of enchiladas, and thus "Enchiladas Suiza" was born. I recently made Marcela Valladolid's version of enchiladas Suiza and it was so simple and delicious! By the way, I originally planned on doubling her recipe… but ended up quadrupling it. (Hooray for delicious leftovers!) The rotisserie chickens I bought at Costco had a lot of breast meat. But below is just a doubled-up version of Valladolid's recipe.
I'm also playing around with making variations of refried beans out of canned pinto beans (bake your own beans if you'd like!), fat (bacon fat, butter or vegetable-based oil), and seasonings (cumin, chiles, onions, garlic, salt, etc). Below is a simple, butter, garlic and cumin version. Subtle and delicious. Other times I've added bacon crumbles or leftover turkey taco meat. When making refried beans, don't be afraid to use all the liquid in the can. The beans may seem too runny at first, but they soon thicken up into a delicious side (or main!) dish.
Anyway, here are the two easy, healthful and (in my opinion!) delicious recipes.
(Update: I think I'll be including some wilted spinach in my next version of the Enchiladas Suzia for flavor + nutrients!)
(Our daughter helping me peel tomatillos!)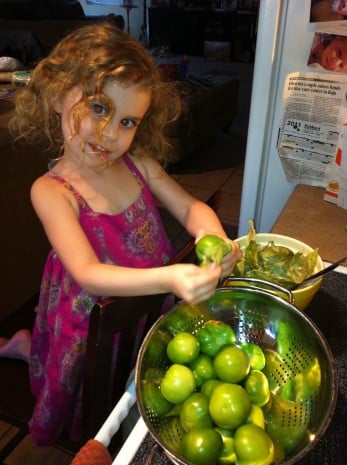 Chicken Enchiladas Suiza & beans
Ingredients
Enchiladas Suiza Ingredients

15-18 tomatillos, husked and rinsed
1 medium white onion, peeled and cut in half
1 serrano chile
2 yellow chiles (guero)
4 cloves garlic
1 cup fresh cilantro leaves, loosely packed
Kosher salt and freshly ground black pepper
1/2 cup canola oil
12 (6-inch) corn tortillas
4 store-bought rotisserie chicken breasts, skinned and shredded (to yield 3 cups)
1 cup Mexican crema or sour cream
2 cups shredded Monterey Jack cheese

Refried Beans Ingredients

1 tablespoon butter
1 garlic clove, minced
1 can pinto beans and its liquid (13-15 oz)
1 teaspoon cumin (adding more if you'd like)
Kosher salt and pepper
Instructions
Enchiladas Suiza

Put the tomatillos, onion, serrano, yellow chiles and 1 1/2 cups water in a medium, heavy saucepan. Bring to a boil over medium-high heat. Cover and boil until the tomatillos turn olive-green color, about 10 minutes. Transfer the tomatillos, onion and chiles to a blender. (Remove seeds of chiles if you want a milder version.) Add the garlic and cilantro and blend until smooth. Season with salt and pepper.
Heat the oil in a small skillet over medium-high heat. Fry the tortillas until golden but still pliable, about 10 seconds per side. Transfer to paper towels to drain.
Preheat the oven to 350 degrees F.
Put the tortillas on a work surface. Divide the shredded chicken evenly among the tortillas and roll up each like a cigar. Spread 1/3 cup sauce in a 9 by 13-inch glass baking dish (be prepared with another baking dish in case you have a lot of chicken like I did!). Arrange the enchiladas, seam-side down, in one layer snugly inside the dish. Pour the remaining sauce over the enchiladas.
Drizzle with the Mexican crema (or sour cream) and sprinkle the cheese all over. Bake until the cheese melts and starts to brown in spots, about 30 minutes. Serve immediately.

Refried Beans

In a medium sized pan over medium high heat, melt butter.
Add garlic and cook 30 seconds. Add pinto beans and all of its liquid and cumin. Mash with a potato masher for several minutes until desired consistency is reached (some like chunkier beans, some like a pureed-like consistency).
Reduce heat to medium and continue stirring and/or mashing for 5 minutes or until slightly thickened.
Season with salt and pepper to taste. Serve immediately.
https://collabkitchen.com/chicken-enchiladas-suiza-beans/