Recently while visiting friends in Washington, we all had a craving for caramel corn. So we collaborated and turned out this amazing treat (which we subsequently all inhaled). Upon returning home (and making tons more), Brent and I discovered that if you use dark brown sugar you can attain a distinct Cracker Jax-like flavor. Heavenly! This treat is a must for your next movie night or camping trip.
Ingredients
1 cup butter
2 cups light or dark brown sugar (dark for a "Cracker Jax"-like taste, light for less molasses flavor)
1/2 cup corn syrup
1 teaspoon sea salt
1/2 teaspoon baking soda
1 teaspoon vanilla extract
5 quarts popped popcorn
Instructions
Preheat over to 250 degrees F (95 degrees C). Place popcorn in a large bowl. Line 2 shallow baking sheets with parchment paper.
In a medium saucepan over medium heat, melt butter. Stir in brown sugar, corn syrup and salt. Bring to a boil, stirring constantly. Once you've reached the boiling point, stop stirring. Let mixture boil without stirring for 4 minutes. Remove from heat and stir in baking soda and vanilla. Pour caramel in a thin stream over the popcorn, stirring to coat.
Pour out caramel-covered popcorn onto two large shallow baking sheets covered with parchment paper, and level out with a spatula. Bake popcorn in preheated oven, stirring every 15 minutes for 1 hour. Remove caramel corn from oven and let cool completely before breaking into pieces.
Variation: Reduce vanilla extract to 1/2 teaspoon and add 1/2 teaspoon almond extract for a nuttier flavor. Add almonds or peanuts after pouring caramel sauce over the popcorn so the nuts adhere to the corn. Bake as directed above.
Yields: 5 quarts of caramel corn
https://collabkitchen.com/caramel-corn/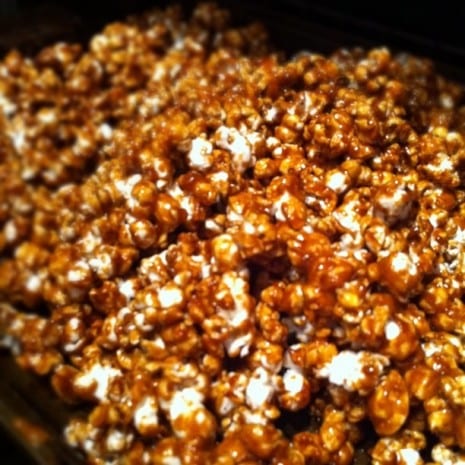 "Darkened" caramel corn.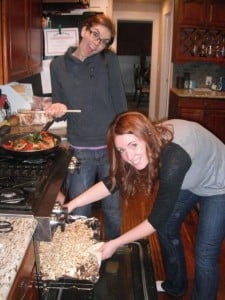 Caramel corn friends. Michelle's standing over the fajitas.
And her friend is about to pounce on the caramel corn. Love you Rachel!