These fajitas are our go-to for overnight guests. We seem like such culinary rock starts when the meal is over. But there really isn't any magic involved (nor microphones). After prep and marinating, the cook time for this steak goes quickly. It's BBQ skirt steak after all!
We incorporate our soy sauce alternative into the marinade, but feel free to use the real stuff as you wish. Our fajitas' side kicks inlude tender-crisp Fajita Onions and Peppers, corn tortillas and the typical condiments (cheese, sour cream, hot sauce, cilantro and limes).
Grilled Skirt Steak Fajitas

1/4 cup olive oil, plus 2 tablespoons
1/4 cup canola oil
1/2 cup soy sauce alternative (or 1/8 cup regular soy sauce)
4 scallions, washed and rough-chopped
4 large garlic cloves, peeled and smashed
1/4 cup fresh lime juice, plus the zest of 1 lime
1/2 tsp crushed red pepper
1 teaspoon cumin
2 tablespoons dark brown sugar or Mexican brown sugar
1 tablespoon red wine vinegar
1 tablespoon honey
2 jalapeños
1 (1 1/2 pound) skirt steak, cut into 3 equal pieces
1 poblano pepper, sliced
1 red bell pepper, sliced
1 large white onion, sliced
Kosher salt and freshly ground black pepper
20 corn tortillas
Lemon and lime wedges, garnish
Chopped cilantro, garnish
Sour cream, garnish
Hot sauce, garnish
1/2 cup shredded cheddar cheese, garnish

To prepare steak marinade: In a food processor or blender, puree 1/4 cup of the olive oil, canola oil, soy sauce alternative (or regular soy sauce), scallions, 2 garlic cloves, lime juice and zest, red pepper, cumin, brown sugar, red wine vinegar, honey, 1 whole jalapeño (with the top sliced off), and 1/4 teaspoon black pepper. Place a large, heavy duty zip top bag in a bowl, place skirt steak in the bag and pour in the marinade. Seal bag, removing as much air as possible. Marinate 1 to 4 hours in refrigerator.

Preheat grill to high. Remove steak from bag and shake off excess, patting dry with paper towels. Grill meat for 2 to 3 minutes per side, being careful not to overcook. Place meat in aluminum foil and allow to sit for 15 minutes. Cook the peppers during this resting time.

Heat a large cast iron skillet over medium-high heat and add 2 tablespoons olive oil. Add 2 pieces of garlic and let it infuse the oil with flavor until garlic browns slightly, no more than 1 to 2 minutes. Discard the garlic pieces and add 1 sliced and seeded jalapeño, the poblano, red bell pepper and onion and saute until tender-crisp and slightly softened. Season with salt and black pepper to taste. Squeeze a bit of the lemon and lime juices from 1 or 2 wedges. Remove sauteed vegetables to a bowl.

Carefully toast the tortillas on directly on the stovetop over medium to medium-high heat until warm and slightly puffy and charred. Wrap in a clean kitchen towel to stay warm.
Cut steaks across the grain into 1/2-inch strips. Serve steak with tortillas, peppers and garnishes.

Approximately 4 hours and 40 minutes, Serves 4 to 6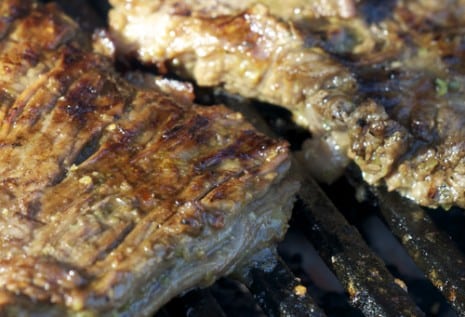 Left-over Ideas
Chop up the fajita meat into smaller pieces and use in the next morning's egg scramble. Or chop the steak and warm through on the pan for just a few minutes. Then mix into some latin-flavored rice. Or do what my husband does and just heat and eat!
Sidekicks
Buttermilked Grilled Corn
Salted Dulce de Leche Ice Cream